LETTERS FROM THE TRAINING CAMP
To his Wife.
The parcel arrived quite safe, dearest girl. It is really impossible to write a letter---we are hard at it all day and sleeping eight in a room, not a bit of furniture. I have to be up at 5 to-morrow morning to light fire in Field Kitchen---out doors ---hope it isn't raining.
Dubbin excellent, ditto puttees. Thanks for tobacco, don't let any more be sent till I ask for it this will last a bit.
Thank Heaven for the dressing gown. I have been sleeping in everything I've got and shivering and to-day my great coat is wet so I cannot sleep in it, but the dressing gown will be more than a substitute.
.
Day's Hat Factory,
Lattimore Road,
ST. ALBANS.
Nov. 16th, 1914.
It is frantically difficult to write. I have scarcely time to eat and none to keep clean.
The cookhouse work is terribly heavy 4 men under a Sergeant (who also looks after the Officers and cannot give us much of his time) have to cook for 240 and that under every difficulty you can imagine.
We have only eleven "dixies" (large iron kettles) every one of which is necessary for each meal and no soda or other means of cleansing them is issued to us. Our full equipment besides the dixies is a set of butcher's tools, a couple of ovens (requiring independent fires over which ordinary kettles can be boiled), a pick-axe, a kettle and an iron girder, found here and invaluable.
Our fuel consists of loppings and logs brought in daily---one cart load per day---which we have to saw into lengths with a borrowed hand-saw and chop up with the butcher's chopper. Of course our meat is supplied in half oxen and whole sheep and sides of bacon which we have to reduce to joints and stewing pieces.
Our expert cook (under the Sergeant) is an eccentric lean individual, very foul-mouthed and good natured. He looks very seedy but is in fact as strong as a horse. He seems to live on one meal a day consisting chiefly of biscuits and pastry from the Y.M.C.A., partaken of at about 11.30 when the dinners are all on. For the rest of the day, he supports life on tea strong enough to blow up a battleship and sweet enough to satisfy a performing bear.
Must stop. More to-morrow love
.
Day's Hat Factory,
ST. ALBANS.
Nov. 19th, 1914
I'm beginning to find out when my easy seconds come along, so shall try to write a coherent letter to-day and to-morrow and post it to-morrow night. At first it looked as if from 5 a.m. till 10.15 p.m. not a moment could be spared from cleaning for duty, duty, eating, and sleeping but as one steadies down odd moments can be found. For instance while the dixies boil in the afternoon,
The toughest part of this job is the getting up, morning after morning, at five o'clock and racing off to the cook's yard and cursing damp wood into a fire frequently under a steady before-daybreak drizzle. We certainly see some wonderful sunrise effects we cooks, and the effect of a set of chimes here that plays something quaint (I can't quite make out what) every morning at six is very beautiful, but it's weary work, and the fear that the trench may refuse to light or cave in, thereby depriving two hundred hungry men of their breakfasts on their return from their morning constitutional (a two mile march before breakfast), is haunting.
I am writing with people talking all round me so---on a broken box---my seat being the hub of a wheel-rest of wheel and cart smashed up somewhere.
Willson stood a dozen of us a dinner yesterday evening: first meal with a tablecloth since I came down here.
I look like being permanently attached to the cookhouse and I shan't mind if I am, the work is feverishly hard for nearly eight hours a day and fairly hard for another five, but it is interesting and unquestionably useful and the cook and his mates are exempt from "Guard" and several other minor worries.
We have to do all our cooking in the factory yard used by the transport men for their carts and waggons. There are two lean-to shelters in it---just roofs with supports under which we try to work if it rains extra hard, but they are a poor shelter and the trench fire is of course in the open.
This is absolutely Active Service here. "War Station" on the orders, and save that we aren't under fire, or likely to be, in every respect similar to Active work at the Front.
Send me no more tobacco unless I ask for it. Some of these boys have had half hundred weights sent them and can't get through them.
.
Days' Hat Factory,
ST. ALBANS.
Nov. 23rd.
DEAREST,
We are still here---about 500 of us out of 18,000, as far as I can gather, only 12 R.A.M.C. 6th F.A. out of 800 any way. Whether we are to follow the others later or whether they will all be marching back in a few hours remains to be seen. I fancy the latter. Any way we are preparing a late meal for them (our own Field Ambulance not the whole division of course).
I am freezing (writing out of doors of course) will move over to the stove---(moved)---but it's very smoky now I'm here. It's windy to-day and the smoke is deadly.
It was a great hour this morning getting breakfast with the waggons being loaded all over the yard. They've never chosen quite that hour before. I had to push a horse out of the way every time I wanted a rasher of bacon to fry.
It was drizzling and very dark too, but it has since turned out a very fair sort of day. On the whole we really can't complain of the weather for second half of November. I wish Xmas was past, though, and the days were lengthening.
People have laughed at the number of references to the weather in "Eye Witness's" account of progress at the Front but the weather is a very important matter to us I can tell you and we watch every change in it with the greatest concern.
Pause from 4 p.m. Sunday till Noon Monday.
The troops came back suddenly and we were plunged in the throes of dishing out stew and soup and spuds and this letter got mislaid in the process. Nobody knows what the game was yesterday. The 6th Field only got about 5 miles at the tail of the whole division then waited a couple of hours and returned. They had been in full travelling rig with blankets, waterproof sheeting, 2 days' rations etc. but here we all are again though the "ready to leave at an hour's notice" has not been rescinded.
Oh lummy it is cold. The warm half of the yard is full of thick smoke. You saw it at it's quietest on a Saturday afternoon after dinner. I wish you could see it on an average morning before 3 p.m.
Heaps of love to you both and everybody. Explain to my boy that I must be away from him for a while. Willson and I went to the Abbey last night and there was a dear little choir boy just like Vally with such a sweet childish little voice. I nearly howled.
God bless you sweetheart---keep smiling. Love.
.
We are getting if possible busier and busier. A Brigade Order arriving last night fairly late involved getting breakfast for all troops at 7.30 instead Of 7.45 and 8 (two batches) which meant up before 5 and out in the rain (it was pouring) by 5.30 all the wood sopping: the fire trench half full of water and the carts and waggons being loaded and got out all over the shop.
We are being sorted into jobs. I fancy I shall stay on cooking. This is good because it is as useful a job as is going and one that demands conscientious hard work still it does not involve going into the actual firing line---a thing I have no ambition to do. Stray shell fire and epidemics are all I want to face thank you, let those who like the firing line have all the bullets they want.
Talking of epidemics we are suffering from an epidemic of minor misfortunes. Willson the healthy has got a sort of boil on his leg which I dress for him nightly. Lion and Fisher have got bad feet---very bad feet. Roff (you don't know him but he is of the decumvirate) started flu but thought better of it---Galton the Scot has started acute pains in his inside---on the site of an old operation. Many others have bad feet or festering fingers and I have got an inflamed eye ---a sort of pimple under the lid which exudes matter occasionally---also I have sliced my thumb beside the nail. Eye and thumb both mending though. Willson dresses the latter nightly: curious how people pal up under these conditions I don't believe he and I have been fifty yards apart since we came down here except on last Saturday when you came down.
The Bag is a thing of such beauty that it was very wise of you to mark it for me. So much "lifting" goes on.
I think I'll try to phone you to-night---it's so long since I got a word with you and my blessing.
Two days later. Sunday.
I resume. I was so glad to catch you on the 'phone night before last. I had had an awful fatiguing, and depressing day and was reduced to an acute state of blues which your voice effectively dispelled. Yesterday again was a soaker. We were hard at it all day cooking not only for ourselves (214) but a batch of A.S.C. and St. John's Ambulance men who are quartered upon us. I was wet to the skin by 8 a.m. and remained so till after tea was served and the "dixies" returned at about six o'clock. I don't feel much the worse for it to-day though.
Love---they are waiting for me to strain 84 pints of tea.
.
To his little Son.
Same date.
Vally darling do send your Doody a letter. I haven't a moment or I would write you long ones. I get up in the morning in a hurry and start cooking and by the time I have finished it is bedtime again.
You are to come and see me again next Sunday unless I come down to see you in the nice new house.
I hope you are well and good and all that sort of thing and I do hope my sweetheart you think a lot about your old Doody who loves you most awfully even if he has to go away from you when he doesn't want to.
Be very good to Dear Mummy and tell her I love her, and give her a big hug for me and please please write to me and send me a big lock of your hair---not a short one but one right off near your head, see?
Your DOODY,
.
To his Wife.
I am most awfully sorry. It's a shame you should be worried. I should have answered your poor dear letter sooner. I tried to but I didn't know what to say. We have had two pouring wet days and I have been wet to the skin day and night---but still quite healthy---and awfully worried about you. As a matter of fact I suppose I should never have joined but stayed at home and worked but it's too late now, I've done it---I ought to have thought more of what it would mean to you to be left as I have left you.
God bless you my dear one.
.
To his Mother-in-Law.
ST. ALBANS.
Thanks very much for the Blankets---the result of their distribution around the room last night was that we overslept ourselves and Wilson and I woke at 5.45 instead of 5 as usual. Breakfast was in consequence late and the Orderly Officer for the day---an infant of about 19 fresh from the O.T.C.---whose duty it is to see that everything in the nature of meals is as it should be---tried to make himself objectionable and was easily suppressed by his underlings---most of whom are old enough and wise enough to be his Father.'
I am putting in for leave either this week end or next but with the best intention in the world they can't grant us passes freely as long as we constitute, as we do now, the first line of defence. When I say "we" I mean the Third Army of which the Second London Division (Territorial) is a part. The 2nd London Division consists of the 4th, 5th, and 6th Brigades. We the 6th Field Ambulance are attached to the 6th Brigade.
We have been shifted from the room you saw to the attics of an empty house some ten minutes further from Head Quarters. It is a gloomy hole---lit by one oil lamp, very damp and draughty. The wall by my head is wet to the touch, and the ceiling below our floor shows large damp spots. The fireplace is a little old-fashioned abomination which smokes when it is fine and spits steam when it rains. Of course we have waterproof sheets to sleep on and Linden's blankets being added to our store we now have 3 apiece instead of the 2 issued by the Quartermaster. I am remarkably well and gaining in weight daily, only complaint an inclination to rheumaticy pains in my feet and shins, and stiff knees when I start out in the morning.
God bless you all.
P.S. You don't pray for the War to cease alone. There are heaps of married men here---or engaged ones who, like me, would greet the declaration of Peace to-morrow morning as---well words don't express it. But we're not anxious for anything but a definite Peace with us on top.
.
To his Wife.
DEAREST,
Please thank Lal very much for the paper. It is more a present to the corps than to me: we are the most perfect Communists imaginable---we call it "borrowing" of course---in all minor matters such as paper, matches, etc. Two-thirds of it has gone already and that won't last long---don't bother to send me any more, though. We can get all we want of the Y.M.C.A. paper at any time and though of course I like using good paper I don't see the idea of supplying the whole army.
I very much regret to say that we shall probably not get away this side of Christmas. It's rotten because Xmas at the front would be an endurable necessity but Xmas here only a few miles from Home would be deadly. Unless things change very much we should not be able to get leave either, that is not more than 10 per cent. of us as we are supposed to be in a state of "hours' notice" preparedness to depart for anywhere. As I told you over the 'phone French's despatch supplies the explanation of our activities for the past month. He appears to have not feared, but at any rate realized the possibility that the Germans might break across the Yser in which case the 2nd London T. Division and all other available reinforcements would have been bustled across to defend Calais, or Calais being taken we should have been hustled to the South and East coasts to defend England. The fact that no extra reinforcements were sent across shows how certainly the enemy was thrown back and how surely we are going to beat him in our own time. The favourite principle of Joffre never to use his reserves until driven to do so by an undeniable emergency is a very wise one.
We are having filthy weather, raining and very windy. I am writing in the shelter of a derelict Am. cart wearing the jersey you sent me, a new cardigan just issued by the Authorities, and Mater's Cardigan.
.
MY SWEETHEART,
Thanks most awfully for your very sweet letter. I never thought you were reproaching me for joining---what I was not so sure of was whether I ought to reproach myself.
You talk of Fate not helping---I wish you could see some of the poor devils down here, we are really among the lucky ones.
I have just had a new pair of boots issued to me by an affectionate Quartermaster because my old ones burst. New ones are I hope going to last better. You remember what mighty looking things the old ones were---they are splitting all across the sole and the seams are gaping. I have also had a share of a gift of woollen goods---two pairs sox, two cholera belts, and a stocking cap also they have issued me a new cardigan so they are doing their best for us.
When I think of Germans landing in England I wish I were not in a non-combatant corps---my taste runs in the direction of Maxim Guns then---but then only. The rest of the time I am quite content to "let others shoot."
For one month now I have been up every morning before 5.30 and out of the house before 6. 1 have seen the Sun rise over the red roofs
Must finish.
Don't send me any damned press notices I don't want 'em. Love to Joan and a hug to my precious---so glad he is having Cod Liver Ile Emulsion.
.
Hope to get a pass. If I do shall be home about 3.30 or 4. May be disappointed at the absolute last moment---the passes are not issued till 2 p.m. Saturday and until then there is the possibility of their being rescinded. So be prepared for disappointment.
Don't I beg of you have beef, mutton, or bacon for any meal and if we are going to Talbot Road communicate this edict to your Mother.
So glad you like the picture----so do I.
God bless you all and love to ye.
.
DEAREST,
Thanks very much for the rock cakes, they were a great success.
Thanks also for the washed things.
All's well with me---one day very like another you--- know except for deviations from the ideal in weather. We have had two beautiful days yesterday and to-day, the Sun rising through clouds and pouring rain but getting the better of them about eight or nine o'clock.
I have made friends with Day's engineer who now allows me to keep my spare clothes (overcoat woollens and overalls) in his engine room over night. I thus come down at 5.30 or 5.45 get pretty wet by breakfast, retire to the Engine Room after Breakfast and emerge in dry overcoat jersey and overalls leaving my home-going overcoat and jersey to be dried by evening. The effect on my rheumatism----which had become rather bad, is most beneficial.
Love to my boy and his Mummy.
To his Son.
MY DARLING,
This is your birthday! The day I'm writing on I mean, of course you won't get the letter till to-morrow so what you will have to say is "yesterday was my Birthday and Doody wrote on the evening of my Birthday."
I'm not sending you any present for your Birthday because I can't afford to send two presents in one week. I am sending you a present for Xmas instead.
I am coming home to see you again soon and we'll have an awfully good time together. We might go to the Zoo together if I can get Sunday tickets.
Good night my little boy---I'm very tired and I've got to shave and have a good wash before I go to bed on the floor next to your friend Ex Corkoral Willson on one side of me and with Galton and Fisher (you have met Fisher but not Galton---he is a Scotchman and likes whiskey hot before going to sleep)---with Galton and Fisher kicking me on the other side.
God bless you my dearest little man. Please Please be very good to dear Mummy and your newest Nanny and please please don't ever spit. I should hate to hear that you had been spitting when I come back.
Your DOODY.
To his Wife.
Thanks for your two letters of last night and this morning. I do hope you will have a happy Christmas. I am sending my blessed a cheap present but you nothing but my love.
We are all over work---our balance of C. arrived on Tuesday and added their appetites to our burden. Christmas too means unlimited labour for the Cooks.
Sweetheart---if you want to send me the best Christmas imaginable it would be a promise of three long letters a week with news at length. You don't know what an intense pleasure it is to hear all about you and my blossom and all that you do. From Sunday till Wednesday night I had not one letter and I can't tell you how depressed I got---of course I know posts were slow and you must have written quite soon after getting home from seeing me in your estimate of things. I'm not so silly as to blame you for not realizing the almost unrealizable pleasure that we under these conditions take in news from home.
God bless and keep you my sweet.
.
DEAREST,
We have had a terrific Xmas . . . tremendous work and plenty of fun. Went to Midnight Service on Xmas Eve (special leave being granted from 11 P.M. to 2 A.M. to those wanting to go, and of course I was after anything going). I know you will forgive me for not writing more often. We have really been up to our necks in work-and an allarum warned us as likely to occur on Boxing Day . . . we were all packed up and ready-and indeed one battalion was entrained and another paraded for entrainment before the "warning" was withdrawn to us of the 6th Field Ambulance. Perhaps you won't understand this: it means that the fighting section of the brigade-the battalions---(which of course move off ahead of us) were not only warned but ordered---in other words we were all ordered but our order was countermanded before taking effect. Hard luck on the Battalions wasn't it? The 21st had to march 121 miles and back for nothing, having been roused at 4 in the morning to begin with. That is the advantage of belonging to a unit that travels by "train no. 57 " as we do, instead of one of the first units to go out.
I'm going to turn in. God bless you and my baby---do write soon and at length. I know posts are responsible for it but I haven't had a letter since the one containing the photos---for which many thanks---now four days ago and I am longing for one.
Bless you! Bless you!
.
You shouldn't have bought me a Kodak dear. You are quite right in thinking I wanted one, but I am really much more anxious that you should have if not enough then at least all that comes in.
It's very nice about "When the Lights are Low"---I only hope something comes of it---or of "Dumb and the Blind" or "Art and Op." or something.
I am not complaining about letters dear one---I am only reminding you how much I value yours.
We (some eight of us) have been turned out of our Billet and put into a garret about half a mile further from the Headquarters. We (Willson and I) were fetched to move our things at 3.30 to-day and in less than 20 minutes had everything packed and in a cart bound for the new Billet. Twenty more minutes and we were on our way back to the Kitchen Yard to make the tea down. We have a great evening ahead of us separating our kits which naturally were crowded into each other's bags most promiscuous-like. The removal of Lion's million quilts was a great joy to all concerned and Willet's leaps to and fro as he rescued his beloved belt from muddy boots and other bad company were almost painful in their frequency.
We had a heavy snow storm in the night and found the trench full of snow this morning. Breakfast was late, but not very. Love.
.
We leave here next Thursday for Hatfield under present arrangements. I am not sorry as any change from present Cook-house must be an improvement unless they expect us to cook at the bottom of the sea or on the edge of a glacier.
All our C. Section (my section) are back from Braintree now and very nice fellows most of them are and extremely friendly and well disposed.
I have put in for a week end pass as soon as possible. I am not entitled to one till Sunday after next but there's no harm in asking in good time. If I do by some fluke get one this week end I shall arrive same time as before but don't expect me. I shall have no means of letting you know. Passes are issued at the stroke of 2 and date from 2. Until issued it is no use counting upon them.
Weather abominable. Sleet and snow changing at Sunrise to rain. Xmas day and yesterday were fine the greater part of the day. All other days filthy.
Love to all, my little boy and his Mummy.
.
I am in the Wars. Willson is in Hospital with a sore throat and a temperature and our A.S.C. fifth hand in the Cookhouse has been demanded for various parades these last two days, consequently my usual heavy share of work in the Cook's shop has increased by 2 fifths---indeed by far more as those left with me are not such good workers as Willson and Pongo 3. (We call all the A.S.C. assistants in the cook's yard Pongo and give them numbers to distinguish between them. The reason is this. Any new helper in the cookhouse used to be automatically addressed by Jack as "Georgie" until such a time as his name revealed itself but the first A.S.C. helper happened to be really named George---or Georgie---so Willson and I decided to call "Pongo" all future A.S.C. men George being too likely to come out right. I hope you understand? You play Patience.
I have just come back from taking Willson up his holdall etc. He looks very nice in a little white bed, attired in a spotless white nighty over which he wears a red flannel bed jacket---as do all the other patients. The Hospital is awfully jolly and comfy. He is in an eight bed ward with chrysanthemums and lilies in vases all over the place against a plain green backing. It is a large private house converted for the occasion I believe.
Love to my blesseds (plural).
.
Sweetheart, Willson is back in the Cookhouse. He has had a perfectly gorgeous three days in Hospital and I am most envious.
The C. Section Commander Major Bird is a great sport and we are taking to him very kindly. He is an old Naval Surgeon which is some recommendation isn't it? ----, though still a pest (I use the word carefully---he is a pest, like an extra Summer-full of wasps) is an efficient hustler and things have moved some since his return.
We have not departed for Hatfield. Something is afoot---I dunno what: possibly a sudden departure for Egypt or France or Germany or possibly an invasion of our own shores---or a review by the general officers commanding the Division.
Love to you all. Please send the camera by post.
.
DEAREST,
Sorry I never posted you a word yesterday. I had a most appalling hump and on re-reading my letter I found it breathed such an air of dejection that I tore it up. I had had a rotten day-not tiring, just depressing. Two of the Cookhouse staff away on passes reduced us to four, one of those off for the afternoon and another (Corporal Shaw, ex-messenger-clerk to Jesse Smith's) called off at 20 minutes notice to a fresh job (water duty) nine miles away left us after the dixies were cleaned a very small band of firewatchers in the rain. Only Willson and myself. Willson went below (to the Y.M.C.A.) to write letters just leaving me in the falling rain and the fading light from 3.30 to 4.30 alone. I chopped a little wood, made myself a cup of cocoa in a dirty mug, made the fires up again, chopped some more wood, made the fires up again and all the time the rain drizzled and rattled on the roof of the little damp shelter and the light grew less and less and I waxed humpier and umpier till when Willson relieved me and I went below to write my letters I felt awful.
Things go on much as usual. We are to come out of the Cookhouse for a little exercise in a few days. We can do with some good marches and we shan't know ourselves getting up at six instead of five and finishing work at three or four o'clock every day. Of course we shall return to the kitchen but the principle of an occasional week of ordinary duties is a good one.
I can't make head or tail of my pay, last week it was 3/- the week before that 4/- the five weeks before that 10/6 each week and the week before those 2/6. You will let me know at once if your sep allowance isn't right won't you?
I wrote my son a snorter as you requested me. It really wasn't easy I do love him so and I could just see him looking pleased at getting a letter from Doody and then disappointed at its contents. Kiss him for me.
Love.
.
To his Son.
MY DEAR LITTLE BOY,
Mummy writes to me that you have been throwing the fire irons at her and spitting again. I am so sorry to hear this, because it's not the sort of thing a nice little boy would do if he stopped to think and remembered that his Doody was away from home and he---the nice little boy---was the only man in the house.
Of course I know that you are a very nice little boy so I suppose you forgot just that once, but please do remember in future that spitting and throwing things is wrong and if you do it often you will not be a nice little boy any more. Please write to me and promise to try not to do it again and if you do it again in spite of trying not to please write and tell me yourself so that I can know whether my little boy at home is really a nice little boy still, or whether he is slowly getting nasty and spitty and bad tempered.
Here's a picture for you of me and some of my friends here. Please give my love to Emma and Firstie and write me a nice letter soon.
Your loving
DOODY.
.
To his Mother-in-Law.
ST. ALBANS.
Thanks very much for the chairs; they really are a most sensible idea-there are so few things which we can enjoy-something to sit on in the evening other than the floor or a sugar box is a treat.
I hear that straw mattresses are to be issued to us soon, personally I am quite used to sleeping on the boards and except that I roll out of my blankets occasionally and have to wake up and re-roll myself I sleep quite well now.
Everything points to our remaining here several weeks longer. Our C. Section was brought back from the East Coast last night, less 16 men left behind in Hospital, so we---the Sixth Field Ambulance ---are all in one place again. C. Section have left their cook behind in hospital. Willson and I made the tea and warmed them up stew and looked after them for two weary hours after our usual time to get away. Our usual day is a twelve hour one, so we were a little too tired. Last night or rather this morning we slept till five minutes to six instead of our usual five o'clock. Consequence: breakfast late for 250 men---and one soldier kept waiting for his breakfast is bad enough.
Have you ever tasted a "cobbler's goose? I'll cook you one when I come back.
Love to you.
.
To his Wife.
Sweetheart, the camera arrived quite uninjured. Thanks. The sleeves are a success beyond my wildest dreams---how very well you have finished them. I have tightened the hand end of each by tying a knot in the elastic and they now fit perfectly, one end tight about the wrist, the other over the tunic entirely protecting my coat sleeves shirt sleeves and cardigan sleeves from damp and grease.
I love your description of Vallie reading in bed. Your last two or three letters have been most cheering---not at all depressing as you feared. The depressing earlier ones of course had to be written, too. I don't want you to only write when you are cheerful. Be a philosopher and make up your mind to stick it and keep smiling. It pays really.
I think the chief reason for my hump is not hard to find. This Corps has been here five months now waiting and waiting and grumbling more and more the longer it had to wait till now it is in a very serious state of general hump---and to be among a lot of people who are half of them nursing grievances is rather depressing when one has quite enough to be humpy about without listening to others' imaginary grievances. I am convinced that the moment we move off we shall be right as can be but at present the collective view seems to be that Kitchener is a fraud, that our C.O. (Commanding Officer) is an incompetent weakling in the hands of our S.M.---a malignant villain of the worst type bent on arresting everybody, our officers utterly worthless as soldiers and positively dangerous as doctors, our N.C.O.'s given over to favouritism, open to bribery, tyrannical etc. and our unfortunate Quartermaster and all that with him bide, are making huge fortunes by depriving the men of their fair allowance of mustard.
My own view is that the C.O. is a courteous, rather faddy, gentleman suffering from the same inaction that oppresses the men; the S.M. an over-worked but intensely human man with the bump of authority a little over-developed by Military life, the Officers good doctors but as soldiers various, the N.C.O.'s remarkably fine---especially the sergeants. There is one earnest exception but he is ludicrous rather than disagreeable so long as you keep your eye on him and give him no chances. He is magnified by the dissatisfied into an ogre whom several dozen are going to injure seriously as soon as we get into action. I don't quite know how. I suggested that they were going to do him to death with roller bandages but a bloodthirsty youth assures me that there are plenty of other weapons to be found on the battlefield so I expect to see him blown from a derelict 75 gun or German 12 incher.
Lots of love.
.
To his Son.
My dearest Little Boy, how are you? I'm quite well---only just a little lonely sometimes when I want to see my Vally and his Mummy. I want you please to come down on Sunday and bring your Mummy with you. You will have to bring some money though because I shan't have enough to buy you both lunch and tea and I suppose you'll want them, won't you?
I still get up hours before you do in the morning, only now that the middle of Winter is past, the mornings are getting lighter and by the time we have breakfast ready it is quite light! It's much nicer because now we can see what we have cooked before giving it to the other soldiers to eat, and if by chance we have put the bacon into the tea and fried the sugar, well, we can change them over in time to avoid trouble.
Will you please tell mummy that Doody may be off to France almost any time now and never to be surprised to hear that I'm off. Nobody, nobody, nobody knows anything about when we are going or where we are going, and nobody, nobody, nobody knows where anybody else is going or when, but somebody else goes every now and then and they go to all sorts of surprising places. You remember Berneval? Well some of them have gone there---or to a place just like it, and some of them have gone to the sea-side like Margaret's Bay where hundreds of soldiers are watching for ships from Germany, and hundreds of other soldiers are digging trenches---long holes in the ground to hide in when the Germans come so's to be able to jump out at them when they don't expect it---and sometimes the soldiers who are watching for the ships from Germany are so busy watching that they forget to get out of the way of the others who are digging trenches, and the others, who are digging trenches, are so busy digging that they don't notice those who are watching for the ships from Germany, and they dig the trenches right under the soldiers who are watching, and the soldiers stop watching suddenly, and fall into the trenches on top of the ones who are digging and they all get horribly mixed up with the picks and the buckets and the shovels and then soldiers like your Doody have to come along---soldiers with red crosses on their sleeves you know---and they have to sort out the broken shovels and the wounded soldiers who used to be looking out for ships from Germany and the other soldiers who used to be digging. They have to sort them all out and patch them up and carry them about on stretchers like this until they are well enough to go on digging trenches to hide in or watching for ships from Germany.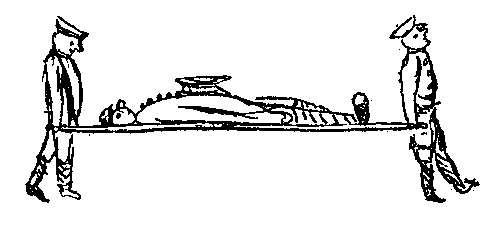 Heaps of love to your Mummy and your newest Nanny---you might distribute a few kisses wherever you think they will be appreciated among your Aunties and Gram and all the rest of the ladies at home but to every man you meet I want you to say WHERE IS YOUR UNIFORM?---unless of course he's got one on.
.
DEAREST LITTLE BOY.
I've only time to write you a very short letter to-night. We are going to have a very long day to-morrow starting long before you will be awake---and reading this. We shall have to get up not much after the middle of the night and your own particular Doody does not like shaving in the dark.
This is the way I shall look at 6 o'clock. My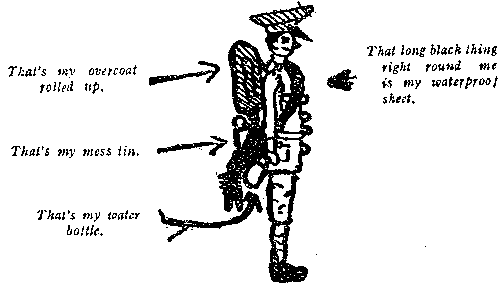 Haversack is on the other side of me where you can't see it in this picture.
You know it takes an awful lot of work to make yourself look like that. Your overcoat has to be rolled up in that squashed rolly-poly shape for one thing. Of course I can't do that alone. The Scot, Galton and the man called Lion will, I hope, help me to fold mine and kneel on it while I strap it up tight and then I shall have to help them to fold theirs and kneel on theirs while they strap them up tight, and then we shall all have to help each other put the rolled up coats on to each other's shoulders and hook 'em round under each other's armpits on to each other's belts, and then the waterproof sheets have to be wuv in and out over and under everything.
The funny thing is we really look quite nice when we've finished with each other and then
Oh then!
Then the C.O. stands us all up in line like this

and the band plays and he walks all along the line and looks at us and says under his breath "Oh my! Oh my! What lovely bright buttons, what be-youtiful white belts." Of course you can't hear him saying this, but if he finds any one whose buttons are not bright---then you can hear him alright and he sounds so upset. about it that everybody wants to cry---especially the man who'se got the unpolished buttons. And then we march miles and miles and get thoroughly muddy and at last the Major says "eyes right," and we all turn our eyes to the right and there's a nice little General and we all march past him, with our band playing like billyoh! and then he goes home and writes to our C.O. and says we are the most bestest men he ever saw and the C.O. tells us about the letter and, we say (under our breath this time) "Yes, I don't think, papa."
And that's an inspection.
Love to your dear Mummy and your sweet little turn up nose, bless it.
Your DODDY.
.
To his Wife.
Calypso dear---I've wasted all my spare time writing this tosh to Vallie. It's not interesting to a grown up I'm afraid. Please I'll write you to-morrow.
Very good luck.
.
We've had a great day to-day---reviewed by the General (Sir Ian Hamilton) commanding the 3rd Army, and outshone the 4th and 5th Field Ambulances to our entire satisfaction. We have no official assurance that we outshone them, but we know that if the General had eyes in his head we must have done so. Our Transport is infinitely better than theirs and I believe we are better marchers---also (possibly the marching is thanks to it) we have the best Band in the Territorial London Division. Our Transport is really very fine. All new this month, too.
Come down later in the week than Monday if you like, but I'd rather you didn't leave it too late. This is a hot bed of rumours of course, but everything points to our going away some day.
I do love you so.
.
We are full of rumours of departure to Hatfield where the 5th now are. Hatfield is nothing like such a comfortable town for troops as St. Albans is but if we are sent there we may take it as a compliment. You see the three brigades of the 2nd Division are at Hatfield, Watford, and St. Albans but the Divisional H.Q. (Head Quarters) are in St. Albans which is nominally where the whole Division is, Hatfield and Watford being, in a military sense, suburbs. As far as can be gathered we---the 6th---came out rather strong at the Inspection held by Sir Ian Hamilton and the 5th came off rather badly, result being that they are to be brought to St. Albans to be more nearly under the Official Eye and we, as efficient enough to look after ourselves are sent to Hatfield to take their places.
Scabies has broken out down here. Three cases in the 6th---one in the Cook House. He came around to say farewell before going to London to the isolation Hospital but we drove him off with harsh words and logs of firewood which he considered ridiculous behaviour seeing he had only got the itch."
I personally have since washed all the clothes I have got and had various baths as have many others in the 6th.
Rumour hath it that we are forming still another reserve.
Love.
.
Fearfully uncomfortable, hungry and tired. Kits lost. Love to you all.
.
DEAREST,
Quite well---but oh this God forsaken hole You never saw such a filth spot.
I have quit the Cook House and got a job as Hospital Orderly. Serjeant King who is" Nursing Duties " having asked for me. A great bit of luck. The Hospital as a Hospital is pretty poor (it is the station waiting room, the orderly rooms being the rooms off it) but as a billet it is the only dry place in the town apparently and, until it fills up (we have 3 patients and 8 beds to date), we orderlies sleep in the beds. No sheets of course, but still beds.
You are not hideous---you are sweetly pretty---if the Cinema makes you look hideous that is only another proof what a failure it is.
I love the bits about Vallie in your letters. More please. Hope for leave to-morrow week.
Heaps of love my dear one.
.
I like my new job, though like every other job which the Army can offer I shall be very glad to leave it. In this filthy slum it is certainly a catch. It gives me a chair to sit on and a fire to sit by in my quieter moments, which only those of the other Military gents here who have the money to take a room in a cottage for their evenings can manage. There are about a score of pubs here, and not one fit to go into: uncomfortable, and rotten beer. One of them is certainly more comfy than the rest but it so swarms with Serjeants that it is not ideal for mere Privates. Not that the Serjeants are standoffish or official out of hours, but they are of the "drinks round again" variety of mortals, whom-though admiring---I cannot cope with.
I think if "Art and Opp" is done in America and things look up I shall ask you to send me down something every week. More than half---and the nicer "more than half" --of the corps all are getting something a week from outside sources and really the Army food needs reinforcing to the extent of about a bob a day by tea somewhere and a Welsh rarebit or something before turning in. Of course I won't take a penny from home until things are better, but I feel pretty confident that they are going to be in a few weeks now.
I am putting in for a pass for next weekend. I may not get it however as the Serjeant Ward Master wants to go up that day and I am becoming rather indispensable in the ward when he's not about. You would be surprised at the courage I am developing. I knocked off in the middle of this letter to shave a patient! And did it too without cutting him! I bunged a hot fomentation on a man's eye ----
Here's a man come in with temperature 101-2. We've got to get him to bed with a hot drink---there's a perfect epidemic of influenza.
Good night ---must make bed for him.
---
Letters from the Training Camp, continued

Table of Contents