DUCKSOME Boy,
My latest job is this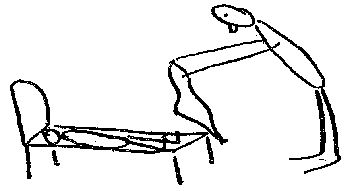 and this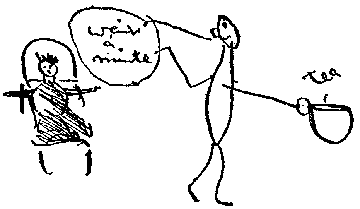 God bless you my dear boy: do write to me.
.
We are sitting under most thrilling circumstances with every window covered and all exterior lights extinguished. Zeps are reported in the neighbourhood. Willson and I went for a walk in the pitch dark village this evening, and while I was buying the enclosed hanky for my ducksome, a policeman called on the shopkeeper to make him put out even the last feeble lights he had in his window. It is a definite order "lights out from 5 P.M. till further orders." Added to it of course are idiotic rumours. Bombs on London are the most reasonable report. An Army landed from aircraft somewhere on the flatter bits of England. This follows a special personal inspection by the General so it's been an exciting day. I didn't parade for the inspection but the A.D.M.S. bustled over in a car and inspected my Hospital while I was in sole possession, my Sergeant Ward Master and my brother orderly both having been ordered to parade.
I call it my hospital because---no swank---I have done a very large amount of the organising of it. Not the silly "Army Form B seventy-two" organising that drives the Sergeant mad but---well I have organised the food supply which was only prevented from breaking down the day I arrived by the fact that it didn't exist. I took it upon myself to do a tour of many addresses I had found on a piece of paper pasted to a wardrobe which the 5th Field Ambulance used when here. I guessed that the addresses must be of some sort of benefactor---at least potential. It turned out that they were good ladies who had been in the habit of supplying puddings on fixed days---milky puddings. I called on them---or their cooks and arranged for the supply to be resumed for us---the 6th. I then found a farm and ordered milk and arranged with the cook---my old boss---in his new Cook House to supply beef tea, taking back with me to the Hospital all the gravy from the Sergeants stew with which I fed my starving patients. The milk business has got me into hot water with the Quarter Master who says I should have left him to indent ----or whatever the Tom-fool process is---for the milk. However in the Corps it is almost a crime not to be in hot water with the Quarter Master. He is a most unpopular man.
I don't want to swank really---don't laugh---but the Sergeant Major, whose Orderly room is part of the Hospital, has twice invited me in there to partake of whiskey with him and the second time kept me sitting over the fire chewing reminiscences till past midnight---two hours after "lights out".--- Sergeant Stadden is greatly impressed, the S.M. being a most correct man. Of course there is nothing against the S.M. foregathering and drinking in private with the ranks if he likes---if he thinks it wise, that is. A Commissioned Officer should not, a Warrant Officer may if he likes, but, as a rule, the Sergeant Major is the most unapproachable soul in the unit. His position is so difficult: head of the Sergeants Mess, he is, in this case, the most experienced Medical in the Corps. He has had 27 years of it.
I have been called up six times in the last page and a quarter to empty bottles etc. Forgive incoherence. The best of the S.M. unbending so to me is that he is such an interesting old chap (not so old either 45 to 50 at most). He has seen life and death enough to stock a dozen men's memories and he tells it uncommon well too.
I must get these blighters their supper. Did I tell you we were enjoying an epidemic of flu? Every bed full, I'm back on the floor after two days of beautiful bed-rest.
Oh dear----I must stop. I'd love to write a dozen pages about things---it is all so interesting.
.
DEAREST,
If possible I should like to see something very cheerful on Saturday night if (it's only an if provisional) I get my pass.
Rushed to death---love to my dear ones all.
Keep an eye on Mater now she's near you.
.
I've gone back to the ranks with a vengeance---I wanted a few marches and, my hat, I've got'em! We've done 50 tough miles in 3 days. Rather rough on me to return to the ranks just in time for so much foot slogging isn't it? I hadn't done a good day's march for eleven weeks. You can imagine I was stiff after the first day out---22 miles we did. Another review by the way, the result of which as officially announced was that "General Codrington was very pleased with the marching of the 2nd London Division and especially of the 6th Field Ambulance which unit he considered the best turned out and equiped etc." He omitted to mention me by name but I have pointed out to the authorities that I was there.
I have been transferred to a swell billet---very comfortable.
Must clean up.
Much love.
.
MY DEAREST,
Things are much more comfortable now. Got into a nice billet, 6 of us in two empty rooms opening off each other---good fireplace and windows. I have also---with 4 others---taken a front room in a cottage, furnished, wherein we can write letters---wash---talk and get our teas in privacy. The danger is that others may find out our "Club" and take to calling. It's a great comfort at present. Also I have found a little baker's shop where I can get a good breakfast for 6d. in the charming company of Mrs. Baker and her daughter, when breakfasting in the Mess becomes unendurable---as it frequently does. The ten shillings has been a Godsend---really one needs a little over and above the net pay if one is to be comfortable. The food supplied is so unappetising and monotonous, besides not always going quite round in an eatable state.
Though I am in the stretcher bearers subdivision---and doing the very difficult "extended order" drill with them---I have been attached to the nursing section for lectures on dispensing medicine etc.---so I look like remaining always with the Tents either as cook (the Sergeant Cook wants me back as soon as I'll come to him) or Nurse.
Hullo 9 o'clock! Must clean up. Love.
The gloves are excellent.
You've heard me speak of Tailor of the Transport? I saw him mounting to drive the water cart back to the Transport lines this afternoon. I have just heard that the horses bolted with him and threw him---the water cart passing over his leg. He is alright but for a crushed foot. A lucky escape. The Water cart is tremendously heavy---the horses extra high and hefty and it is "ride-driven " from the saddle---which means a long fall right under the wheel.
.
I'm quite willing to write, but I find it increasingly difficult. This life is so monotonous and all privacy so unknown that letter writing is a disappearing art. I think I told you that Lion, Roffe, Capell, Willet and myself have rented a sitting room in a house here wherein we have our tea and make ourselves fairly comfortable but even here there are generally four of us in the evening---sometimes plus a couple of visitors and conversation is generally going on-just at present there is none---but Roffe is mending an allarum clock.
Keep me well posted concerning Vallie won't you? I am not unduly worried about him---you and Joan with your dozen odd certificates between you ought to be a match for his bronchy---but I might worry if I did not hear.
We---the 6th---continue to receive compliments from the Authorities. Colonel Burt the D.M.S. says our Hospital is clean and Codrington says we march well, and Sir Ian Hamilton has said we were not so dusty---and certain sneering gentlemen in khaki in St. Albans meeting some of us there on Sunday said:---"Hullo here come some of the smart sixth." So we seem to be getting known.
I am at work---a line a day about---on a one act play for the 6th Field Ambulance which would also be useful for the Halls.
Things seem to be going tremendously well, don't they? I expect we shall finish the war up this Autumn easily now. . . . What Germany will have to say to the Kaiser is a question. I suppose you know that we shall probably be on Garrison duty for a couple of months after the War. If we do we shall have a perfectly scrumptious time of it---those of us who are looking after Belgium and France---and if I'm one of them somebody'll have to find the money for you and Vallie to come out and stay with me. If we are in Germany the temper of the people will be a consideration. I doubt if---outside Prussia---they'll give much trouble.
Oh---can you get me any good book on the systems of weighing and measuring in Pharmacy? Doctor Beer can tell you of one for a cert---only I don't want an elaborate one I have no time to read it. just a text book of the weights and measures both here and on the Continent etc. Ring Beer up and ask him---give him my very kindest at the same time.
Love to you all.
We are hard at work on the extended order drill most mornings. It is not easy.
.
To his Son.
MY OWN BLOSSOM
I'm writing this from Hatfield. We've just been to church all together marching along, with the Band playing in front, and marching back and now I am back in my billet, all alone: Fisher and Galton and the man called Lion are all away on leave and Corkerel Willson is in the cook house still. He won't come out of it though we all beg him to.
I'm sorry so to hear you have got a cough. I hope it is getting better every minute. Coughs are a nuisance, aren't they? especially when they wake you up in the night. Mummy says in her letter---the one that you wrote some of---that you are being very good and I'm so glad to hear it. Especially when you're not very well you must be good and kind to poor Mummy who probably worries about you more than she needs to. You see we both want you to be always well and strong, so that you can grow and grow and be such a fine big man one of these days.
Does Mummy tell you how we are getting on with the War? I think everything is going awfully well. The Germans have done another very silly thing. They have said they are going to blow up all the ships that try to come to England. This is just as silly as it can be because, for one thing, it's wrong to blow up ships and if they do they'll get into trouble with more people even than they are in trouble with now, and everybody will go for them, and for another thing they can't blow up one quarter of the ships they say they will, so they are pretending that they will do things they can't---which makes them look ridiculous and---well it's as if you were to lose your temper and say that you were going to throw Mummy out of the window. You couldn't and it would be wrong if you could. Well the Germans are being told now how silly and wicked they have been and I think they'll be sorry one of these days. We have sunk a lot of the ships they sent to sink ours.
Please give my love to dear Mummy and tell her I'll write tomorrow, also tell her I'm getting on very comfortably now. I am going to have tea with the people who own the house I'm billeted in---awfully nice people---and this morning I went and had breakfast with a little baker and his wife in the little kitchen back of his little shop. Everybody is very nice to your Doody once he gets the chance to tell them what a nice little boy he's got and what a nice Mummy that little boy's got.
Be very good and give Mummy a special kiss from me.
Your DOODY.
.
To his Wife.
Don't send anything more except the trousers. I'll take back the Putties and stockings next time I am home on leave. The white trousers I mean. I sleep in them.
Hatfield continues to improve on acquaintance,
.
The weather is improving daily---a gorgeous march into Hertford to-day through lovely country. 7 miles there 7 back---an ideal day's "work." Such days are our holidays and we love them.
I have been over to St. Albans again last night for a bath. None in Hatfield---fancy a ten mile walk for a bath and that after the day's work!
Heaps of love to you all. Things seem to be going awfully well don't they?
.
SWEETHEART,
We have had a long, tiring, but very interesting day. We marched off soon after seven and joined on to the Division at the Gate of Gorlambury Park, following it into the Park and taking up our allotted position on the valley side. It was a gorgeous day and the four or five square miles of opposite valley-side, wonderfully visible were dotted over with the troops; artillery, A.S.C. trains, and the 4th and 5th Ambulances. Behind us were several Battalions---each 1000 men in 16 platoons (I believe) and so large was the open space and so clear the day that they looked exactly like toy soldiers set out on a green carpet. We pushed our waggons about a bit, changed positions once or twice and then bearer sections were drawn from amongst us to follow the battalions and I---left behind in a skeleton Tent Section---after watching them trail away, miles of them literally (a whole Division is 16 miles long in column of route extended). We Tent Sections sketched out our site-operating, hospital, store tents etc.---and then tacking ourselves onto our Transport train which had been performing similar theoretic acts, we marched back to Hatfield arriving here at 5.30. The bearer divisions returned an hour later.
The most curious thing about these operations is their exact similarity to actual warfare in this at least: that the individual unless he be a Staff Officer of high rank, cannot make head or tail of the whole business, and is sorely tempted to regard it as the most colossal muddle, which of course it isn't.
The amount of aimless wandering and waiting demanded of the individual (officer as well as private) is, of course, tremendous and, to the less intelligent, quite incomprehensible. Some men seem to think they are brought out solely to teach them personally their work and not as part of a unit which is again part of a division which is being taught its work as a whole.
It's not unlike rehearsing a colossal production over a stage extending over Watford, St. Albans and Hatfield (I don't know how many miles of country) with a cast of about 18,000 performers, 2,000 horses, and innumerable props, in the form of tents waggons and guns and gun carriages,
You should see our horses. I doubt if any regular division can beat us either in heavy draught horses or in Officers mounts. The Yeomanry are wonderfully mounted, and the pack horses of the battalions splendid animals. The remount Officer happens to have been till a few weeks---perhaps a month---ago transport Officer to the 6th Field Ambulance, so of course he consorts considerably with our own Officers and we see a lot of him. He always rides the last word in blood mares and has a batman (Military parlance for a groom-valet) in attendance with another equally perfect. Of course it's swank but it looks jolly well and his side about his knowledge of horses is quite lovable.
I must to bed. Thanks very much for your very nice letter. You shall have a P.C. or letter every blessed day I can manage it. Seriously though have I ever kept you "five or six days without a letter?" Sunday till Thursday is the longest I can remember.
I don't believe in the people who have "candidly admitted" etc. We all grumble---and we shall all be jolly glad when it's over but we are all most capable of cheering up on the least excuse such as a fine day or something interesting to do. It's the quite unavoidable hanging about---or fatigue duties---in rotten weather that takes the heart out of us.
Love---I must to bed.
.
To his Son.
DEAR VALLIE,
I want a farm with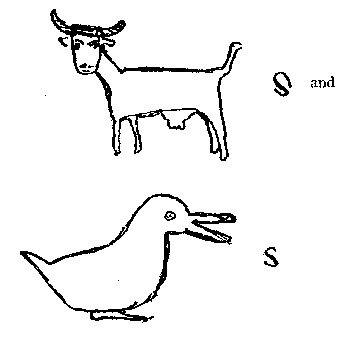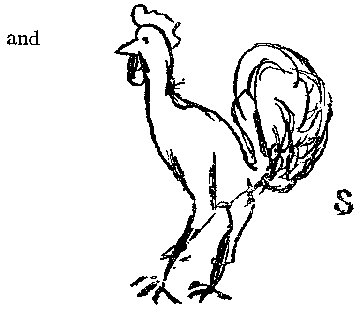 .
To his Wife.
Lal has thrown the whole 6th into a state of stupefaction by wiring me "Good luck" on my birthday. The wire reached me after many redirections from Orderly Room, Mess, Guard, and I believe the C.O. himself. I do wish people wouldn't do these things. I am popular, consequently the chaff is not ill natured but it is---and will be for some days at least---excessive to such a degree that I am avoiding my usual haunts during my few off moments. The chaff I say, is excessive but not universal. Some of the simpler souls are now convinced that I am at least a Millionaire. One---a driver of a C.P. van in civil life remembers a publican he knew in his youth who would send telegrams about all sorts of things. "Just like sending a post card!"
Also---apart from making me look a fool---it frightened me out of my wits. We have shifted hospital---been on the job all day---from the Station up to the servants quarters over the great stables of Hatfield. Beastly quarters worse even than the Station. No general ward---a double row of cubicles with doors---you can guess how that doubles work. Moreover the genial comfort of a cosy ward---a very pleasant thing where only slight cases are treated---is exchanged for a lot of isolated patients on either side of a corridor. The common room off the corridor wherein the out-of-bed patients and ourselves (the Orderlies) eat and live is also a most cheerless dirty white washed room without a comfortable seat in it. We have seven in patients tonight---one poisoned foot, one (poor old Driver Green) in a state of collapse after ten teeth having been extracted, one suffering from some nose, throat, and ear affection, one acute diarrhoea and sickness, one undiagnosed rash, one flu, one boil compared with which the biggest boil I have hitherto seen is a pimple. The poor little chap who supports this colossus nearly faints when it is pressed.
Our out-cases are more interesting. One in particular, a finger which looked a week ago quite unlike a human finger, rapidly regaining its shape seems almost a miracle.
I am alone in charge tonight. The Sergeant is not sleeping in hospital at all this week so they must think me fairly competent. I am now getting bread and milk suppers for the patients.
Love to my duckysome and yourself.
.
Opportunities to write are now greatly diminished: 7.50, and I am just finished for the day---finished more or less, that is. I am still liable to be called---even as I write behold one calleth.
Dixon is a jolly decent sort. He had tea with us here to-day and cursed his, and our, luck in being stuck here in a most beautiful Irish accent. He assures me that it is no advantage to be an officer; rather the reverse. Caldicott--- queer, dry, irritable, but very pleasant fellow who was third of the tea party---is convinced that the war is going to last years and years and that we---the 6th---will not be disbanded for years after its all over.
We had an awfully interesting operation yesterday.
Oh help!
.
DEAREST,
I am so miserable about Monday-and about to-day too---I have been trying to write to you all day and here it is nine o'clock suppers to get for 4 patients and I'm just starting. Hospital work is one long interruption.
We have got a most infernal business ahead of us tomorrow. Up at 5 at the latest, breakfast at 6.30, and march away for the concentration at 6.45. We at the Hospital have to leave our Wards etc. in order, and see the relief section in before leaving. Hence the 5 o'clock awakening.
I have been feeling terrible all day. An absolute attack of the horrors came on me in the night---a sort of nightmare that hung about after I was well awake. It was all I could do to prevent myself waking the other Orderly for company. There were devils all round me. Quite seriously I believe that pus and poisoned wounds if thought about---or looked at continuously---breed some sort of horror in the mind. If only wounds---the little wounds we get here---would be what one expects wounds to be instead of festering and swelling, I should not fear my capacity for dealing with the more terrible ones at the front, but these give me such a curious feeling after the day's work is over, that I wonder how I shall feel in six months time. The curious thing is that I can dress the nastiest and discuss the nastiest and think about the nastiest of our little nastinesses without the slightest feeling, but in the night (towards the end of my last spell as Hospital Orderly and again last night) I get the horrors.
I do hope Vallie says "God bless Doody!" at night. I felt last night it might do me a bit of good.
Love.
.
We had a jolly day to-day erecting tents against time and measuring out ground. The encampment looks very pretty when completed.
Oh Hell-more arrivals! Very noisy. Love.
.
To his Mother.
DEAREST MATER
Don't apologise for "neglecting me" for a few days when at the end of them you send me two closely written giant pages. This letter of yours is just the sort of letter I like. If you only write to me once a week a good long newsy letter I shall be a lot better pleased than I should be with seven scrappy ones.
Why "cant" --- type? Lesser brains than his have mastered that difficult art. Typing one's own work is a most valuable last glance over it in print form. People who are superior to the appearance in print of their paragraphs are as hopeless in literature as the people who are superior to mere audibleness on the stage.
My news is --- I have done my second week as Hospital Orderly (We do one in three). A fearful field day covering 30 miles and lasting (without a meal) from 6.45 a.m. till 8.25 P.M. The last four hours in soaking rain through which we (a small detached band of Stretcher Bearers---not the whole 6th) marched the ten miles home at a pace which left the shorter legged several paces in the rear, until a staff-officer overtaking us blew the Lieutenant in charge of us up severely. The Lieutenant in question had been previously thrown from his horse and was covered with mud. We had to march down a road----a bad side lane really---along which all the Artillery of the Division had preceded us. It was a muddy road at best and flooded in places. You can only faintly imagine the foot deep surface of clay we had to splash through for over a mile. Every footstep flung mud higher than our waists. Some times higher than our heads. It was a creamy job. The whole day---wet and muddy and tiring, (we were in full marching order all the time) was most fascinating though. It ended by the stretcher bearers, of whom I was one being marched straight into the sergeant's mess and there served with dinner (rabbit stew) and a glass each of the sergeants' beer, the Sergeant Major himself presiding and forcibly preventing any of the over weariest of us from turning from the food and slipping off to his billet and turning in unfed, and the rest of the Sergeants acting as waiters and bar keepers. I believe our little party did as hard a day's work, as has been done in this part of the country, and not one fell out. Of course it was an accident that landed such a task upon us. We should have either gone to the concentration point by train as the Battalion did or returned from St. Albans by train and motor as the rest of the Field Ambulance did, but---true to the conditions of actual warfare---(by chance)---we went out as a Field Ambulance Stretcher bearers sub division and returned as auxiliary stretcher bearers to a battalion of infantry, a change of character which may easily occur in a real engagement if the S.B. sub div. follows the Batt. reserves until they become supports and still further until they become first line and the rest of the Field Amb. being threatened or otherwise compelled to move off, the communications between S. B.s and Tent sub divisions are broken.
You are all wrong about Russia. She knows her game. The conditions in the East are absolutely unsuited to the digging in policy we have followed in the West. Trenching in East Prussia and Northern Poland would cost more men every week from pneumonia, frost-bite and possibly drowning--than even a retreat like this last one. Russia has ample money---more than all the rest of Europe is the general belief. Make up your mind to this: a retreat means nothing unless it is an entire line that is withdrawn or unless the retreat leaves one end of the line "in the air" and within striking distance of the enemy. Retirements here or there in a line may lead to something but they are in themselves nothing but evasions of blows; sometimes at a cost in men and guns; but that cost is generally about equal to the losses inflicted upon the attacker who fails to bring his blow home. Russia is being attacked much more vehemently than the Allies in the West are, and the greater swaying backwards and forwards of her line is very like the dodging and "footwork" of a clever boxer when his opponent tries to finish him quickly."
Must wash.
Heaps of love.
.
To his Wife.
DEAREST.
Of all the dismal fates, I have been made Orderly Room Orderly. No more marching! And just while this lovely weather is coming along. I don't mind being Hospital Orderly because the work is intensely interesting, although tiring; and also it is only for one week in three; but Orderly Room work is eternal---chiefly clerical, relieved only by spells of housemaid's work and running errands. It is nervous work too. Lighting the C.O.'s fire and sweeping and dusting his room is alright, but tidying up his papers gives me the shudders. They all look so wildly official and important.
I am typing this on the S.M.'s typewriter---an Oliver, I don't think I am doing so badly with it, do you? I am not going at all slow, and it is the first time I have tried it.
I stand no chance at all, of a pass this week end after my special of last Wednesday, but I shall make out one for next week end. One does these things for oneself in the Orderly Room. Oh, I tell you it's we that's the rogues. I thought the kitchen was the one true abode of cheatery with the Q.M.'s stores as a sort of home from home, but we in the Orderly Room are the great rogues.
My brothers in crime, are Sergeant Treadwell a big-boned six-footer dark moustached (Interruption---"Chap in, op it and get your tea"--- obeyed immediately. One of the humours of Military life is the way you have to jump to your opportunities before they fade, I spent an hour and a half over the tea---to continue)---dark moustached and rather sinister looking, really a practical joker and most easy going, Corporal Sulivan a little fair man who was through the S. African War. He looks about 28 but is really nearer forty-eight. He is our Postman and is a postal clerk in private life. These are the N.C.O.'s Treadwell as Orderly Room Sergeant and Sulivan as Corporal. They both know their business backwards but are bad hands at imparting its intricacies to a new comer, being very inarticulate on technical matters. The S.M. of course spends most of his time in the Orderly Room and the C.O.'s room is adjoining. My fellow Orderlies are Trotman, whom you know, a tall boy, only nineteen, name of Corby good natured and an excellent clerk, and Chattin also tall and a linguist---German and French like a dozen natives having lived in those parts in his youth.
Good-night---Love to my boy.
.
I do believe there is some sort of a cherub sitting up aloft looking after me. You know how absolutely sick I was at being put into the Orderly Room. I can't exaggerate how I hate the work. Absolutely no exercise---and in this lovely weather being penned up all day.
(Broken off to type "Fieldstate")
Well---the C.O. has just returned suffering from the accumulated energies of five days absence and struck an idea. Each Section is to do the departmental work for a week commencing Monday (to-morrow) with A Section, so---unless the horrified Sergeants can dissuade him---I return to the ranks to-morrow after four days of the beastly place. I'm in C.
Monday.
It's happened! A is doing it all. Hospital, Guard Room. Orderly Room. Cook House. Quarter-Master's Stores. Fatigues, for one week. B. starts next week ditto then C. Whether I shall be bagged for Hospital, Cook House or Orderly Room remains to be seen.
We had a jolly day to-day pitching tents for a couple of hours with a pleasant march out to selected site and back. Weather blowy and a shower or two but on the whole excellent.
I shall be at liberty to rehearse from 10 till 12.30 Thursday. Dentist at 1. Shall not ask for afternoon pass. S.M. away and his substitutes---though good souls---too inclined to refuse any unusual requests in a halting "can't you wait till the S.M. comes back" sort of way. They daren't do anything out of the routine.
I want you and the Treasure to come down this Saturday or Sunday or some day next week.
Love to the Nipper.
.
How do you like the Dardanelles touch? And Russia's retirement ending in a strategically stronger front for her and a very much worse supplied front for Germany? If I am not very much mistaken, NOVEMBER will see the end of it. I am willing to bet on it. The Dardanelles must make a tremendous impression on Greece and the Balkan States and Italy: and that counts for a lot. I am tremendously pleased over the whole situation---including the, German blockade failing to account for even one ship per day on the first ten days.
We had a great day to-day. Each man cooked his own dinner in the field: plenty of time allowed us to do so---a regular picnic.
The Imperial Service Units have been altered in nomenclature by Army Order to 1st Line, so your husband is now in a First Line Unit serving in a First Line Division. The alteration is only in name. We have been really first line all along. but it's pleasant to be called 1st Line troops which has a definite meaning instead of a fancy name like Imperial Service which sounds like Optimists and United Arts and other abominations.
Lights out.
.
We are very busy. Issues of underwear, etc. going on fast. I was on packing stores all afternoon. There is a ten o'clock parade to-night for those who have not yet got various non-essentials. Rumour says that we move off during the week.
God bless you my darlings.
.
Rumours of departure "by the galore" as Jack expresses it. I really think we shall be moving off in the course of this week or at the latest next. I don't quite know how we shall let our folks know when we are really off. I will try to send a wire, but---for obvious reasons, we may be prevented. We shall probably sail from Avonmouth which means St. Nazare or Havre and some base in Western France. It's a long way round from Avonmouth, but safer than the Channel. Some of the Division are moving off to-day or to-morrow.
I am not going to suggest you and Vallie coming down. It would be a trying business for you. We never know when we shall be wanted to draw stores etc. Some men have had their wives down and been lucky enough to get off. Others have jigged about on parade or tinkered about with stores while their womenfolk stood on street comers and waited for them. I don't want none of that, thank you.
No leave now. Poor devils who were to have gone when I returned try to tell me how much they hate me but words are not equal to it.
.
We did a parade in full going away order this morning. It is tremendously heavy. I scale 13 stone 9 pounds in it without my 5 lbs. of iron rations (emergency food) so I shall march weighing fourteen stone! They don't expect more than 15 miles out of us at that, though, as an absolute limit.
Nobody knows where we are going to. Dixon gave us a most impassioned lecture on morals to-day, in which he said France. That seems quite certain anyway.
We spend an awful lot of time waiting for orders it is very tedious. If I were sure of being here to receive you I'd ask you to come down to-morrow but I'm not. Some of the battalion moved off at two hours' notice last night.
Don't worry too much about me when I get out. The Club except for Willson are going tea-total en masse. Also I'm not a kid, I've been inoculated recently---and I'm not afraid of infection in the least.
Heaps of love Dear. Will write again tomorrow unless I've departed.
.
We haven't departed yet, dearest, but we are certainly off in the course of the next week or ten days. New boots, pants, "jumpers" (a sort of undershirt with short sleeves and low neck), body belts, have been issued all round. Also the various minor impedimenta that are usually so hard to get out of the Quarter Master's Stores can be had for the asking. "Puttees? " "Take some!" "Straps?" "Over there!" But for the fact that we have had to hand over all surplus kits and clothes, the more acquisitive of us would be making museums. Everything spare has been taken from us. We are to go out with what we can carry on our own backs and shoulders and no more. We may wear as much as we like in the way of underwear---one tunic, one pair trousers, one pair puttees, one pair boots, one cap. Then on our back we carry our "pack": great coat folded with socks, spare shirt, spare pants in it. Across our shoulders our blanket and waterproof sheet. On our L. our Haversack containing hold all (razor etc.) towel, soap and rations (5 lbs.) on our R. our waterbottle.
I want at once the best photo of you with the eyes showing and one of Vallie with the Teddy Bear, looking at me. You know the picture. Also will you please go---or send Joan---to Gamages for the biggest Haversack they sell? It needn't be an expensive one, just a large strong canvas one. I will pay for it out of kit allowance which I shall draw when we go. Also please send me my money belt.
Please send them at once we may be off at an hour's notice any time. That is why I do not suggest that you should come down. It would be too awful if you turned up just after I had gone, wouldn't it? We had four days together. 75 per cent. of the men haven't had their leave at all. I was told in the Orderly Room to-day that three hours' notice would be about what we should probably get and no time therein to send wires.
Yes it is certainly France---any way at first.
Bless you ---heaps of love.
.
We are not off yet---delays in rest of Division suggest we shall not move before next week so will you come down Saturday any time you like? If we do move off I will wire.
I do so want to see you. Fearful hump. Love.
.
I'd love you to give me a wave---I'm so glad you want to. The Devil of it is that we---all Military Units---move off secretly, and unexpectedly. We know we are going and soon but how soon nobody knows---it may be in a couple of hours' time ---it may not be until the middle of next week---or the end. The Captain of the A.S.C. unit which was attached to us had his wife staying with him in St. Albans and Mr. Day met her and told her he'd gone one day. She wouldn't believe it but he had. Then a few days later he came back!
You come along and have an afternoon with me to-morrow (Saturday)---I'd like to see Vallie too if you can bring him and Joan too. They are all invited to the Club to tea. Come as soon after 1 as you please and wire me what train you are coming by and we will discuss how you are to see me off. It may be workable.
Heaps of love.
Oh---dress just as smart as you know how compatible with travelling, and ditto Joan and Vallie. The Club must be paralysed.
.
We are sitting 8 in a compartment in our train waiting to get into Southampton. Have been waiting over an hour and the Engine Driver on a train beside us tells us he has to get in and out before we can. The line is very congested. Good thing I didn't try to let you know our route---we haven't followed it a bit---been all round London to get here. Acton nearest point.
We paraded at 3 a.m. this morning breakfasted at once and paraded in going away order at 4. Transport waggons harnessed and us arranged and counted by 5 when we marched to St. Albans where we are:
.
We are now penned in a shed---2.20---preparatory to embarking. It is one of those huge sheds you must know at docks-over 100 yards long by 50 odd broad---not unlike a skating rink. Two thirds of the floor space is covered with men lying at length or reclining on one arm, their coats over them their arms, caps, belts etc by their side. We have just been invited to make ourselves comfy---mustn't leave shed. There is a buffet in one corner I'm going to have some tea. I wish you could see this half acre of worn Khaki in the dusty half light. It's a picture worth a lot and it's so amazing it should be alive and real.
---
Letters from France

Table of Contents