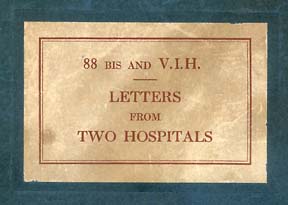 BY
AN AMERICAN V.A.D.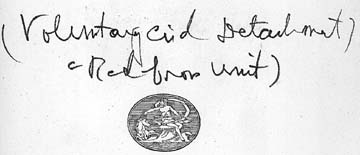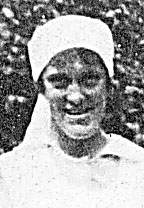 [KATHARINE FOOTE]
THE ATLANTIC MONTHLY PRESS
BOSTON
1919
I DEDICATE THESE LETTERS TO MY DEAR FATHER AND MOTHER, TO WHOM THEY WERE WRITTEN

"And of these, many are gone, to join a radiant band, whose hope is in us."

---

Saunderstown. R. I.
July 1. 1923.

Dear Arthur Foote:

Thank you and Mrs. Foote for the 'Letters from Two Hospitals'. I have read them with the greatest pleasure, and the first portion, the French ones, with the added sense of much association. In England I don't know Chester in the way that I know Tours; and yet those pages recall the whole of England and give me a sense of personal familiarity too. What admirable letters they are, and what a noble and devoted work they record! They must have made the writer's parents happy. And the two last paragraphs---Lieut. Raffy and Sergeant Elliott! Do you know, the book brings a sadness with it, as some perfumes do, that have associations. All through it are reminders of a spirit which is gone: a spirit of zeal, self-effacement, high dedication, faith, which shone over us then and made those dreadful years endurable. These present times are less endurable because nothing shines on them--- that I can see. It will not always be so; but how long is it going on like this? Many many thanks to you, and a good summer.

Yours Sincerely
Owen Wister
---
Part 1. In France, "88 bis" au Couvent de l'Adoration Perpétuelle, January 14---February 2, 1917

Part 2. In France, cont'd, February 3--March 23, 1917

Part 3. In England, Vernon Institute Hospital, April 12--July 8, 1917

Part 4. In England, cont'd, July 27, 1917--March 15, 1918.