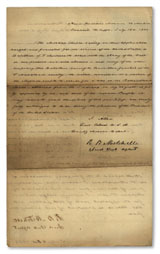 20. Captain James Allen, d. 1846 and Robert B. Mitchell
Letter of Captain James Allen and Robert B. Mitchell, 10 July 1846, Headquarters, Mormon Battalion, Council Bluffs.
Application of the Mormons to reside temporarily on the Pottawatomie Indian lands. Verso has the 2 July 1846 document signed by the Chiefs giving permission for the Mormons to stay on their lands.
The Office of Indian Affairs was first established in 1824 within the War Department. In 1832 the position of Commissioner of Indian Affairs was officially approved by Congress, although Thomas McKenny had been functioning in this position for years. In 1849 the responsibility for Indian Affairs was transferred to the newly created Department of the Interior. During the sojourn of the Mormons at Winter Quarters, local Indian affairs were directed out of the St. Louis Superintendency, with five Indian Agents reporting to Superintendent Thomas H. Harney from 1843-49, and then to his replacement David D. Mitchell. The Council Bluffs agency, established in 1837, had responsibility out of Ft. Leavenworth for the Omaha, Oto, Missouri and Pawnee Tribes in eastern Nebraska.
Captain James Allen was given the responsibility of recruiting the Mormons for service in the Mexican War. He had been a Captain in the U.S. Army since 1837, and had graduated from West Point Military Academy in 1829. He had accompanied Henry R. Schoolcraft in his 1832 expedition to find the headwaters of the Missouri Rivers. He had acquired considerable experience in Iowa Territory by the early 1840s and in 1842 was assigned to Ft. Atkinson in Iowa Territory to supervise the Sac and Fox Indian agency. In 1846 he was sent by Brigadier General Stephen Kearny, recently appointed Commander of the Army in the West, to meet with the Mormons. Thomas L. Kane had already hand delivered to him the instructions from President James K. Polk concerning the formation of the Mormon Battalion. Allen did his task well, but died on 23 August 1846. The Mormons found Allen easy to work with, and even sub-agent Robert B. Mitchell had to agree that the Mormons were not like the images currently being portrayed in the public press.