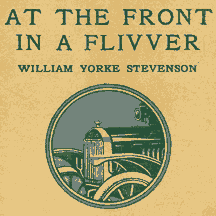 Section No. 1, American Ambulance
WITH ILLUSTRATIONS

BOSTON AND. NEW YORK
HOUGHTON MIFFLIN COMPANY
The Riverside Press Cambridge
1917

Lieut. Marquis Robert de Kersauson de Pennendreff
Commanding Section Sanitaire Americaine N° 1
PREFACE
IN presenting the following diary to the public, a few words of introduction may not seem superfluous. The writer is a young American who usually is not given to self-expression, although a number of articles from his pen have been published in various magazines, and a book of early sporting experiences was published by Altemus, some years ago, under the title Joys of Sports. On March 1, 1916, he left his family and his position as financial editor on a Philadelphia newspaper, because he felt strongly this country's attitude with regard to the war, and wished to join the few volunteers who then sought, as far as in their power lay, to pay the debt of service which this nation owed to France. He kept a rough diary which, as the occasion offered, he forwarded to his people. It was written offhand, without the remotest idea of its publication. It is this that constitutes its value at this time.
Any one who has made it his business to read every book hitherto published by correspondents and others will realize how few there are in which can be found so many practical details of the things one wants to know, or which give so realistic a view of the war at close range, with its strange mixture of horrors, pleasures, and realities, divested of all literary effort or desire to impress.
These notes axe here published almost as jotted down at odd times, here and there, where the man happened to be. Only a few entries felt to be unprintable have been omitted, and a few expletives which slipped in when under a fever of excitement in action.
Taken as a whole, the diary offers a glimpse of real life at the Front --- quite different from the view obtained by the personally conducted visitor --- as lived by the men who are doing duty. As such, it may be of use to our young, men about to enter upon the great adventure. The reader will find in it no heroics, no attempt at a pose, no desire to magnify the work or its dangers. It is but fair, therefore, to supplement the young man's simple statement of facts, by publishing, along with the diary, a letter written to a member of his family by Mr. John H. McFadden, Jr., who, in charge of the Department of Equipment of the American Ambulance Field Service, visited his Section in September last, at a time when the strain of work was probably not at its worst, and yet was described by him as follows: --
September 9, 1916.

My dear Mrs. S.:

I have just returned from a visit to Section No. 1, where Yorke is, and although he probably has written to you describing his work, he also probably has omitted a good deal, owing to the fact of his being a member of the Section. After seeing the extraordinary work that those boys are doing up there, I felt that I would like to write to you and tell you all about it.

A good many of the Sections are now living under canvas and have often found difficulty in finding a suitable place to cook. So that we have had built a kitchen on two wheels which is pulled along by a big two-ton White truck used for sitting cases, arid the real reason of my visit was to leave one with Section No. 1. As it happens, they are situated at the present moment in a splendid château (the Château de Billemont) about four kilometers outside of Verdun. Up to a few weeks ago it was the headquarters of some French officers, but the Germans, having got hold of the fact, shelled them out, so that it has made an ideal place for our men.

The "poste de secours" to which they are attached is six kilometers the other side of Verdun; and since ten days before my arrival, and during my stay, the French have been doing incessant attacking and counter-attacking, and the work of carrying the wounded has been practically continuous night and day.

On going to the "poste de secours" from the Château, you pass through Verdun and continue on a wide, level road for about one kilometer, and then you start up a very steep hill, which continues right to the "poste de secours," for five kilometers. This road is very narrow and sufficiently dangerous from a driving point of view apart from the fact that it is shelled continuously day and night. In fact, the duty of Townsend, Section Director, is to go out every morning at daybreak with a couple of men and fill up the holes which have been made during the hours of darkness, so that our cars will not fall into them.

The "poste" itself is only one hundred and fifty yards from Fort St. Michel, which, of course, accounts for the attention which that part of the country gets from the German artillery. Besides this, the whole valley and hillsides are covered with French batteries, and the din at the top of the hill makes it impossible to talk in anything like an ordinary voice.

The day driving is comparatively nothing. The fact that every car has been hit has made no impression whatsoever on the men. I do not mean to say by this that they are in the least bit reckless or foolhardy --- on the contrary, they take all possible precautions; but when there is anything to be done, it is carried out without question.

The part, however, for which they deserve all the praise that we can give them, is for their driving at night. Naturally, no lights are allowed, and I have never seen a country that can produce darker nights than that district. You can try and imagine starting from the top of that hill with a car full of wounded, driving down a narrow hillside road in a blackness impenetrable for more than a yard. If it were not for the light given by the firing of the guns and hand-grenades, the work would be well-nigh impossible.

It really impressed me as so tremendously fine, that I did not feel that we were giving them all the praise they deserve.

I hope you have not found this letter too long and will not think that I am bothering you too much, but nothing that I can say can give you an idea of how splendid those boys are, and I cannot help feeling that nothing should be left untried to give them all the assistance in our power.

Hoping that you are well, I remain

Very sincerely yours,

JACK McFADDEN.
For service even more exposing than that described by Mr. McFadden, rendered on the 11th of July, 1916, on the occasion of the gas attack in the battle for Souville-Tavannes, the entire Section 1 had already been cited before the Division of the Second Army to which it was attached. A second citation was given the Section for the work referred to in Mr. McFadden's letter, which was the battle for Fleury, when again the entire Section so distinguished itself. This time, however, it was cited before the Army. Along with these official citations some wonderful letters were addressed to Lieutenant de Kersauson de Pennendreff by the surgeons in charge of the "poste de secours" and those who were in charge of the Sanitary Service to which the Section was attached. Since then, the newspapers have reported a third citation for the Section; and recently, when Hon. A. Piatt Andrew, for his distinguished service to France, was awarded the Cross of the Legion of Honor, he chose to receive it with Section 1, because it is the oldest of the American Sections, and because he drove with it before he became the head of the American Ambulance Field Service.
General Ragueneau, of General Nivelle's Staff, performed the ceremony, which took place in the fine courtyard of a splendid sixteenth-century château, in which Section 1 was then quartered. Troops formed three sides of a square, and the "ambulanciers" the fourth. Fate was propitious, and the weather was the only sunny weather they had enjoyed since the winter had set in. The big guns were loudly booming, and German aviators were dropping bombs on the village just outside the château, also in the river near their dining-tent: quite a glorious staging for a scene of this kind.
After the ceremony, Major Andrew, as he is now called, presented the Section with a section flag of blue silk, edged with gold fringe, with the American eagle in the center. In the top corner is pinned the Croix de Guerre, with the, two stars, which mean that the Section has been twice cited before the Army. As a fact, now, it should be three stars, as recently it has received a third citation, which, for the present, again places Section 1 at the head of all the American Sections, a proud position which it occupied last autumn with two citations. Later, however, Section 8 caught up to it. But to return to the flag bestowed upon it by Major Andrew: in the other corners are inscribed the names of the battles in which the Section has figured: Ypres, Dunkerque, Somme, Verdun, Argonne, Aisne, and so on: a proud record, to be sure.
After the customary ceremony, the General advanced toward the young drivers, who were introduced to him by name, and whose hands he shook. He afterwards invited some of the older men to join him and the Staff in a glass of wine. He made them a most complimentary speech, which ended a pleasant as well as most honorable experience.
Having come back to this country on furlough to spend Christmas at home, Mr. Stevenson returned to France on March 4, 1917, and upon arrival in Paris found that his Lieutenant, the Marquis Robert de Kersauson de Pennendreff, had kept his place for him in the Section; he at once, therefore, returned to Verdun to join his squad. Section 1 shortly afterwards was transferred to Champagne and the Aisne where the heaviest fighting of the war was then expected to take place. Since then that expectation bids fair to be realized.
Mr. McFadden recently returned to France after a most successful money-raising campaign in this country, through which the American "Ambulanciers," who for nearly three years have been keeping up the honor of this country on the fighting line, will be provided with proper cars and equipment. They deserve it well. And Hon. A. Piatt Andrew, Henry D. Sleeper, of Boston, who represents the work in this country, and Mr. John H. McFadden, of Philadelphia, should be congratulated upon the splendid support which they have obtained for those remarkable American volunteer boys.
One can but regret that the now historic "Ambulance No. 10" will appear no more in the annals of the Field Service. It has done noble work, however, and should have a decent burial in some American War Museum. The celebrated "Flivver," or "Tin Lizzie," as our diarist calls her, should not be allowed to end on a scrap-heap. Who can estimate the number of lives she has helped to save? She is a veteran, and deserves an honorable ending. We should not be ungrateful to a thing which has served us so faithfully.
We, who for so long remained out of the conflict, should never forget the debt of gratitude which we owe to these young fellows of our race, who from the first, with a keen sense of honor and splendid courage, unhesitatingly realized their duty to France and to the ideals which our Nation professed to uphold, and who went alone and served when we discussed and did nothing. To them, to our splendid aviators, and to those who enlisted in the Foreign Legion, be all honor and praise for representing, unbidden, the true spirit of the American Nation.
"Doing my part of the everyday care --
Human and simple my lot and my share --
I am aware of a marvelous thing:
Voices that murmur and ethers that ring
In the far stellar spaces where cherubim sing."
Since the diary was written, the author has been placed in command of Section 1 and has been awarded the Croix de Guerre. The citation, signed by a general whose name is withheld for the present, reads as follows:
The Commandant Adjoint Stevenson, W. Yorke, American Sanitary Section No. 1, enlisted volunteer since February, 1916.

"Commandant Adjoint of the American Sanitary Section No. 1, never hesitating to expose himself, has largely contributed to the organization and direction of the evacuations under enemy fire. Brave, devoted, and of a rare modesty."
THE EDITOR.
August 1, 1917.
NOTE
THIS is not a Treatise on the War. I know nothing about it. General Joffre never consulted me in developing his plans. It was rather careless on his part, but I'll try to forgive him. Nor did the German General Staff make, any special effort to obtain my views. Of course, it has been their loss. Therefore, this little book is merely a record of what one driver of a "Tin Lizzie" happened to see during some nine months spent on the Somme, around Verdun and in the Argonne.
WILLIAM YORKE STEVENSON
Ambulance Driver
Section No. 1
CONTENTS

I. EXPLANATORY

II. PARIS --- NEUILLY ,

III. AT THE FRONT AT LAST

IV. ON LES AURA

V. PREPARING FOR THE BATTLE OF THE SOMME

VI. "ILS NE PASSERONT PAS"

VII. VERDUN

VIII. "EN REPOS"

IX. THE BATTLE FOR FLEURY

ILLUSTRATIONS

From "Poilu" to "Yank", William Yorke Stevenson, Boston & New York, 1918
---
Chapter One