Huachuca Illustrated, vol 1, 1993:
chuca Illustrat
chuca Illustrat
Roll Call:
Major General Edwin B. Winans
chuca Illustrat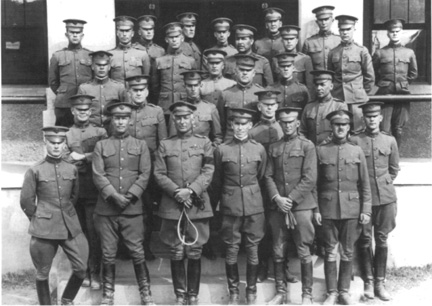 10th Cavalry staff in 1921. Colonel Winans wears the black armband in the first row. U.S. Army Signal Corps photo.
Following his graduation from West Point in 1891, Edwin B. Winans was commissioned in the 5th U.S. Cavalry. He saw action with General H. W. Lawton in the northern Philippines Campaign from September 1899 to March 1900. Winans patrolled the Arizona-Mexico border with the 4th U.S. Cavalry in 1912. He commanded a squadron of the 7th U.S. Cavalry on the Punitive Expedition into Mexico in 1916. During World War I, Winans served with the American Expeditionary Forces in France, commanding the 6th Infantry. He was awarded the Distinguished Service Medal and the Silver Star.
As a colonel he commanded the 10th U.S. Cavalry at Fort Huachuca and was the post commander from August 1920 to February 1923. He was promoted to brigadier general on December 30, 1922, making him the first general officer to command the post. Later, as a major general, he was superintendent of the U.S. Military Academy, commanding general of the Hawaiian Division, and commander of the 8th Corps headquartered at Fort Sam Houston, Texas. He retired in October 1933.(36)
---
Footnote:

36. Winans bio file in Fort Huachuca Museum files.
---
17. Buffalo Soldiers at Huachuca: Events in the 1920s

Table of Contents