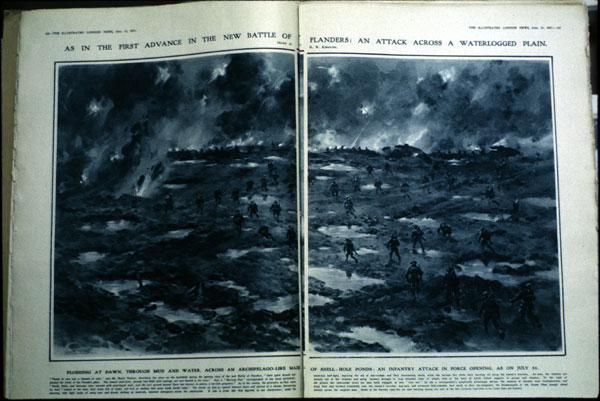 * The accompanying text reads:
AS IN THE FIRST ADVANCE IN THE BATTLE OF FLANDERS: AN ATTACK ACROSS A WATERLOGGED PLAIN.
DRAWN BY H. W. KOEKOEK
PLODDING AT DAWN. THROUGH MUD AND WATER. ACROSS AN ARCHIPELAGO- LIKE MAZE OF SHELL-HOLE PONDS: AN INFANTRY ATTACK IN FORCE OPENING, AS ON JULY 31.
"Floods of rain and a blanket of mist," says Mr. Beach Thomas, describing the scene on the battlefield during the opening days of the new Battle of Flanders, "have quite doused and cloaked the whole of the Flanders plain. The newest shell-holes, already half-filled with soakage, are now flooded to the brim." Says a "Morning Post" correspondent of the same battlefield: "Roads, fields, and footways were covered with semi-liquid mud, and the torn ground beyond Ypres had become, in places, a horrible quagmire." As to the enemy, the prisoners, as they came in, were "soaked to the skin, their boots full of water, and feet so swollen that some could hardly walk." The attack on July 31 opened between dawn and sunrise of a cloudy, threatening morning, with light scuds of misty rain and drizzle drifting at intervals, between downpours across the countryside. It was a scene like that depicted in our illustration; under the uncertain half-light, requiring the aid of star-rockets and Very illuminating shells, while the barrage-fire shells were bursting all along the enemy's trenches. As seen, the infantry are already out of the trenches and going forward strongly in long extended lines of attack, close at the heels of which follow supports in groups and clusters. To the right of the picture two new-model tanks are seen hotly engaged, as they "iron out" (to use a correspondent's graphically picturesque phrase) the remains of German wire entanglements, and forge their way forward irresistibly over the enemy's trenches, dug-outs, and armored field-redoubts, very mush as their sea-congeners, the Dreadnoughts of the Grand Fleet, plough ahead stolidly across the roughest seas. Shells of the German reply-fire are seen bursting among our men to the left.-[Drawings Copyrighted in the United States and Canada.]