T. BENTLEY MOTT
MYRON HERRICK
FRIEND OF FRANCE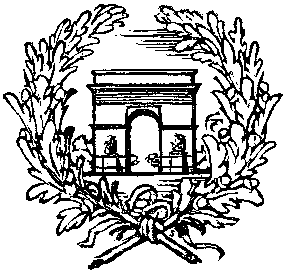 XXIV
THE AMBASSADOR ESCAPES BEING KILLED BY A GERMAN BOMB
"THE incident of the German bomb has been so much talked about that I had better give you the facts. As already mentioned I had taken over Germany's interests in France and the German embassy was under my protection, along with all other German property and prisoners of war. It was my duty to look after them and I did so to the best of my ability. One day late in September [1914] I had visited the German embassy and had started back to the chancery, crossing the river at the Pont de l'Alma and going up the Rue Freycinet. A few moments after passing the corner where the Prince of Monaco then lived and which is now the Papal Nunciature, a bomb from a German aeroplane fell, killed two people, and cut a girl's leg off. As I go by there now I often stop to look at the scars left on the houses. The spot where the bomb struck is only a little distance from the chancery, and everybody there of course heard the noise of its explosion. As I walked in just at that moment, my staff came in to hear what had happened and to see if by chance I had been hurt. We all realized that I had made a fortunate escape.
"When the story got around, a number of Frenchmen paid me visits of congratulation, some of them saying what a terrible loss it would have been to France if I had been killed, and all that sort of thing. It was to one of these that I replied, 'Oh, well, a dead ambassador might sometimes be more useful than a live one.'
"That is all there is to that occurrence, but people took hold of it and made a good deal of to-do about it.
"There is one incident, though, in connection with that bomb which I think ought to be recorded. It has to do with Denise Carter, the young French girl whose leg was horribly smashed by a fragment of the shell. When they picked her up the first thing she said was, 'Please don't tell mamma how badly hurt I am.'"
In the very middle of the Battle of the Marne the following interesting telegrams were exchanged between Ambassadors Herrick and Gerard. Mr. Herrick refers to them several times in his letters.
From Gerard, dated September 8th:
"No. 22. Extremely urgent. German General Staff recommend that Americans leave Paris via Rouen and Le Havre. They will have to leave soon if they wish to go."
There is nothing the Germans could have done which would worry Mr. Herrick more than getting Mr. Gerard to send this telegram. And Mr. Gerard, of course, dared not hold it back. Mr. Herrick was fully decided as to remaining in Paris himself, but if he published a warning or privately notified Americans, suggesting that they leave, panic might have ensued. And if he did not, and the Germans sacked Paris ... ?
Mr. Herrick replied the same day:
"No. 7. I appreciate your telegram. This embassy has for some time past been advising Americans to leave Paris and many have already departed. As, however, I represent many important interests here, I deem it imperative to remain, together with my staff. Under all circumstances I feel satisfied that should German forces enter Paris necessary measures will be taken to protect not only American property but other property entrusted to my care. Please communicate above to German Government."
The next day the ambassador had a carefully worded suggestion put in the Herald, and a number of Americans acted upon it and left Paris; but the French papers did not copy it and the danger of creating a panic was avoided. Then very soon the news of the German repulse arrived to comfort everybody.
On the 15th, in order to make sure that the telegram signed with Mr. Gerard's name was not spurious, Mr. Herrick telegraphed inquiring if he had really sent No. 22 of September 8th. Our ambassador in Berlin answered:
"I did send Number 22 as I was unwilling to take the responsibility and possible consequences of declining to forward to you the suggestions of the German General Staff. I received your answer Number 7 and complied immediately with request contained therein."
Another interesting telegram arrived October 7, 1914, from Mr. Bryan:
"In obedience to the proclamation of the President, the people of the U. S. assembled at their places of worship on October 4th and joined in prayer for the restoration of peace in Europe. The attendance was very large and there was everywhere a spirit of earnestness.

"Care was taken that nothing should be said of a non-neutral nature, the trend of the speeches being that God might so direct those in authority in the belligerent nations as to hasten the restoration of peace, and that the American people might be wisely guided in the exercise of such influence as they might be able to exert."
"At this time the French were much disturbed by the large number of German vessels which had been designated as 'hospital ships.' The French and British navies combined, although they were constantly at sea, had only six of these vessels whereas the German navy, mostly blockaded in port, claimed to need dozens. Theoretically there was no limit fixed regarding such craft in The Hague Convention, but it appeared suspicious that so many were required by the Germans. Garrett wrote me about this from Bordeaux, in order that our government might know in good time the doubts existing as to the purposes lying behind the designation of these numerous hospital ships."
.
TOURISTS' TROUBLES---"ANXIOUS LETTERS"
"WHILE I and my famous committee and the French government were all trying to arrange to get Americans home, somebody slipped a plan past Mr. Bryan which I strongly suspected was devised in large part for German benefit. Two German ships were shut up in Genoa, liable to capture if they went out. We had four thousand Americans in Switzerland and Italy clamoring to go home. The ships were offered to our government for the use of these tourists, provided we obtained promises from the French and British not to capture them. Mr. Bryan instructed me to submit the question, claiming that these vessels could be considered as falling within the provisions of The Hague Convention relating to ships engaged in a philanthropic mission.
"The French Foreign Office seized the possible danger of such a ruling on their part and replied that it would be impossible to consider as belonging to a life-saving society merchantmen of the enemy, chartered by a third power to repatriate its nationals. Any other interpretation might lead to abuses by extending humanitarian protection to passengers who might claim it without deserving it. Moreover, ships blockaded in neutral ports might thus escape capture through subterfuge.
"The French government, however, readily admitted that every effort should be made to ensure the repatriation of American citizens under the best possible conditions as regards comfort and safety, and it suggested as a simple and sure method the using either of neutral vessels or of French and English ships. The departure and arrival of the latter category was assured by Allied command of the sea.
"I was moreover informed that the proposition advanced by our government seemed no longer to have any practical interest, since the French government was then arranging to transport to the French coast the four thousand Americans stranded in Switzerland. These were the ones our State Department wanted to send to Genoa and put on board the German steamers Moltke and Koenig Albert then blockaded in that port.
"The British answer was also polite but very definitely, no.
"I sent army officers from my staff to Switzerland to escort these convoys of our compatriots to French ports, the French government furnished through trains as soon as the mobilization was over and the railroads were unblocked, and the movement was made with as little hardship as the difficult circumstances permitted. I can never forget the aid and comfort these officers were to me in this emergency. They organized everything and attended to it all in person. It was well done and I was grateful. I hope the refugees were also.
"I do not think this little slip indicated that Mr. Bryan was under Bernstorff's influence as some people said. He was not pro-German, or pro-anything else, except pro-peace and pro-American, and for this I honor him. But the trouble was there remained so little peace in the world at this time, and the only sensible thing, in my opinion, was to recognize this disagreeable fact, and on every occasion take such measures as would tend to shorten the crisis with which the world was faced. Talking and pleading certainly would not do it; the time for this had passed; action, vigorous, Rooseveltian action, alone could have had any effect."
In October the Prince of Monaco appeals to Mr. Herrick for help. He protests against the
"wild attempt which General von Bülow of the German army intends to bring against my properties in France. This general, holding my castle of Marchais, near Rheims, where not one soldier has been seen since the beginning of the war, has fined the poor village of Sissonne, situated five kilometers from my place, $100,000 because of some insignificant mischief supposed to have been committed there. The poor people are not able to pay and Bülow sent me two messengers to warn me that, if I did not pay, my castle and the village would be destroyed.

" Marchais is an old historical monument containing works of art, personal papers, and objects of personal attachment. There my childhood was spent, there my father died; therefore one can understand that such an enormity will take the meaning of a most barbarous character. I refused to give the general the sum, saying that as Sovereign Prince I wanted to treat that matter with the Emperor. Here is one of the innumerable and incredible facts that are daily occurring on the territory occupied by the Germans and, as the Chief of a State, I want to hand you this protest."
Mr. Herrick took this up with the Spanish ambassador and, through King Alfonso, Flotow, the German ambassador in Rome, was asked to get at the Kaiser. The house was not burned, but the correspondence would indicate that the German general at Marchais kept up his threats till well into December. He seemed to have clung to the hope of bluffing Prince Albert out of $100,000, but he failed.
Prince Albert also wrote to the Kaiser:
Monaco, October 22nd, 1914

SIRE:

I forward to Your Majesty several documents relating to a very grave and urgent matter.

General von Bülow one month and a half ago caused my residence of Marchais, situated at five kilometers from the village of Sissonne, to be occupied. The general has levied upon the fifteen hundred inhabitants of this poor, ruined village a war contribution of $100,000, of which they are unable to pay more than one quarter. Moreover, he has sent me two emissaries bearing a document in which he threatens to destroy my property as well as the villages of Marchais and Sissonne, if I do not myself produce the sum in question before the end of October. That is how a Prussian general treats a reigning prince who for forty-five years has been a friend of Germany and to whom all the countries of the world show respect and gratitude for his work.

In reply to the summons of General von Bülow, I have given my word of honor to complete the above contribution, in order to avert a horrible action accomplished in cold blood; but I have added that as a Sovereign Prince I shall submit this matter to the Emperor with the announcement that the said sum shall be paid when the Chateau de Marchais shall have been freed from the danger of intentional destruction.

I am, with great respect,

Your Majesty's devoted servant and Cousin,

ALBERT, PRINCE OF MONACO.
To this the German ambassador in Rome replied a month later:
IMPERIAL GERMAN EMBASSY
Rome, November 20th, 1914.

MONSEIGNEUR:

His Majesty, the Emperor and King, my August Sovereign, directs me to inform Your Serene Highness, in answer to the letter Your Serene Highness sent Him through me, that His Majesty has Himself seen to it that the Chateau des Marchais remains unscathed. Your Serene Highness may be assured that from the German side His residence shall suffer no harm. His Majesty also takes occasion to remind Your Serene Highness that during a speech made by Him before the beginning of hostilities, He firmly stated His decision to conduct the war in a chivalrous spirit. Unfortunately, the English, the French, the Belgians and the Russians have prevented His Majesty from carrying out this decision to the extent He had desired. The part played in this war by the civilian population, the use made of public and even ecclesiastic buildings for military purposes, have rendered necessary some measures that have been applied very much against their will by the German military authorities.

General von Bülow has been obliged to order the application of the measure in question because the population had tried to render impassable the road that the German troops were to make use of. Moreover it cannot be denied that the German army was extremely irritated by certain remarks attributed to Your Serene Highness by the French newspapers and which constituted a criticism, as harsh as it was unjustified, of His Majesty and His Army. These remarks seemed difficult to understand in view of the relations existing between His Majesty and Your Serene Highness and which were well known in the army. His Majesty the Emperor therefore noticed with astonishment the absence from the letter of Your Serene Highness of any enlightenment or denial of the said statements, the dissemination of which cannot have remained unknown to Your Serene Highness.

In making the above known to Your Serene Highness by Supreme Order of His Majesty the Emperor and King, I beg Him to accept the assurance of my profound respect.

FLOTOW
GERMAN AMBASSADOR.
There are hundreds of appeals which his secretary, Miss Singleton, labeled "anxious letters." One of these is from a lady in Chicago:
Ambassador,

DEAR SIR:

Have a son stranded in Paris, Mr. Leo X.------, lives at --- rue du --------. If there is any way to get him to New York City will pay transportation at that end. Have tried in every way here to find out how and what to do to get him here. He has applied to you for help. In a letter to me he is without funds. Suppose you have many an appeal but do please do all you can for my boy he is young yet and does not know what to do. Please take care of this matter for me at once. Am a poor widow woman and have my own troubles but will guarantee to pay for him do not have it cost me any more than you can possibly help. All I can do is to give you my word that I will pay same. Am so worried and excited do not know whether you can get any sense out of this letter. Know you will do all you can for an anxious mother. Just him and I is all. Hope to hear from you soon or see my son, I remain yours,
By the end of November Mr. Brand Whitlock had evidently become disgusted with the over-running of Belgium by American sightseers. He urges Mr. Herrick to aid in damming this flow at the source---any other damning being left to discretion. He writes:
"Ever since the German occupation of Brussels there has been a constant stream of American visitors. These gentlemen we should be glad to receive at any time, but their visits have become so numerous that they are causing the Legation considerable embarrassment, for the reason that they expect special consideration at the hands of, and all sorts of favors from, the German military authorities---not only passports to tour Belgium but automobiles, gasolene, etc. Recently there has been a complete interdiction of all passports for automobiles and for the use of gasolene, and this makes our task all the harder. I have tried to explain the situation to our visitors but they are not to be discouraged, since each one considers his own case exceptional. Thus, in order to obtain the special favors they so freely demand, I am compelled to use personal influence that could be devoted to larger needs. Many of these gentlemen come in the rôle of bearers of special despatches, but the credentials they present, on perusal, betray internal evidence of having been written, not so much for the purpose of bearing despatches as for despatching the bearers.

"It is hard to convince people that this is not the time for making tours of this stricken land; they cannot envisage a life in which all the conveniences to which they have so long been accustomed are lacking, and when each week brings half a dozen such tourists, with no reason for being here except that they are curious or adventurous, our problem becomes really grave. I am therefore constrained to ask that these visits be discouraged and if possible discontinued."
Our consul in Rheims was an American citizen, of course, but born in Germany. On September 15th he writes to the ambassador:
"The Germans arrived before Rheims on September 4th after greeting the city with a bombardment such as I and mine shall never forget. It was said to have been caused by error, but this error has caused more than fifty-five deaths and more than one hundred citizens were wounded, and the loss of property is enormous. Four bombs fell within thirty meters of each side of our house, killing two people not more than a hundred feet away. While the Germans were in total charge of the city and all public offices, the Commander, on September 7th, accepted a letter from me to Ambassador Gerard. I can only say that we are totally terrified and do not know what next will befall us. Cannonading has been going on around us and is going on yet since last Sunday, and should the Germans come back here again we only can pray that they may treat this city less rudely than they have done on their first coming and going. What I will do within a few weeks when all my money will be exhausted I do not know. It would please me best if the Department would close up this office, which for the time being is of no material use to anyone, and did find some ways and means to get me and my family out of the firing lines; however, if this cannot be done, I shall have to stay and try to make the best of it. I leave it to your good judgment and kindness to bring this matter to the attention of the Department in the most feasible manner. I am writing this letter myself and do hope, considering the nervous strain we had to live through lately, you will forgive me if the same is not composed as systematically correct as it should be."
Mr. Herrick annotated this letter:
"W. Bardel, German-born American consul at Rheims. Through the gloom and horror of these early days he moves with a quaint touch of humor. Ever conscious that this 'cradle was rocked in a land extremely unpopular with the French,' he brings his weary body and shattered nerves to the barbed wire for the sake of the consulate's shield that he represents. He really deserves a tribute. I don't know what has become of him."
The consul was authorized to go to Épernay and then to Troyes. That he waited for orders in every case is to his everlasting credit; and that only a rigid sense of duty kept him ever within the range of the guns and probably with nothing whatever to do except to listen to them, is evidenced by his other letters:
October 20th: "We are all tired of this nomadic life and would sooner hear a few bombs than to have to live among a lot of refugees who from morning to night bemoan their sad fate."

November 3rd: "I hope to find an opportunity soon to resume my post, although for the time being the prospects are very discouraging yet. To-day is the fiftieth since the commencement of the bombardment, and while for a few days last week it seemed to calm down somewhat, it is now raging as fiercely as ever and the sound of the cannon is heard here all day long. The two armies are now exactly in the same position in which they were seven weeks ago; the only visible change is in the poor city itself; more than one third of it is in ruins to-day."
.
MR. SHARP ARRIVES
AS I have said elsewhere," Mr. Herrick resumed, "I resigned as soon as Mr. Wilson was inaugurated---indeed some ten days before. That was merely following the usual practice. But it was not until June 2, 1914, or a year and a quarter afterward, that I received notice that my successor had been designated. The President had chosen for the post Mr. William G. Sharp, a member of Congress from Ohio. After accepting the appointment, he went to Cambridge Springs, Pennsylvania, to take a cure, and when war was declared he had not sailed from America.
"It is customary for an outgoing ambassador to present his letters of recall and leave the country to which he has been accredited before his successor arrives. This I was most anxious to do for every reason. I had been kept on to suit the convenience of the government and until such time as the President and Mr. Bryan could satisfactorily settle upon a man to take the post; this, it is true, had not inconvenienced us or involved any sacrifice on our part; but the selection had now been made and announced, we were partly packed up, we had engaged our passage for August 8th, and my wife and I were looking forward impatiently to seeing our children, grandchildren, and all the old friends in Cleveland, when the events of the last week in July arrived and completely upset these plans."
On June 1, 1914, the Secretary of State had telegraphed,
"I am directed by the President to accept your resignation, submitted in February, 1913. You will be duly informed of the date of your successor's arrival, and you may either remain in Paris until shortly before his arrival, or you may take immediate leave of absence, your successor then presenting your letter of recall. The Department wishes to be informed as to which plan you will follow. I join with the President in an expression of the appreciation of your services to our Government in France.

"William Graves Sharp, of Elyria, Ohio, will be your successor. Please secure the agrément of the French government to his appointment as such. For many years a prominent lawyer and manufacturer in Ohio, he is now serving his third term in Congress. In the Committee on Foreign Affairs, he is the ranking member."

BRYAN.
To this Mr. Herrick replied three days later as follows:
"Your telegram of June 1st, 7 P. M. has been received by me, and I wish to extend to you my thanks for the choice which has been offered to me. I shall proceed to arrange my personal affairs with as much speed as possible and then shall probably ask the Department for leave. Invitations to dine at the embassy on June 23rd have been issued to the Presidents of the Senate and of the Chamber of Deputies. In case Mr. Sharp plans to arrive before that date, I shall recall these invitations.

"I wish to avail myself of this opportunity to express my appreciation of the President's and your commendation of my services and beg that you will convey to the President the assurance of my gratitude."

HERRICK.
The formal letter of recall for presentation to the French President was received July 9th. It may be of interest to see the form of this document:
WOODROW WILSON PRESIDENT OF THE UNITED STATES OF AMERICA, TO HIS EXCELLENCY THE PRESIDENT OF THE FRENCH REPUBLIC,

GREAT AND GOOD FRIEND:

Mr. Myron T. Herrick, who has for some time past resided near the Government of Your Excellency in the quality of Ambassador Extraordinary and Plenipotentiary of the United States of America, having resigned his mission, I have directed him to take leave of Your Excellency.

Mr. Herrick, whose standing instructions had been to cultivate with Your Excellency's Government relations of the closest friendship, has been directed to convey to Your Excellency the assurance of the sincere desire of this Government to strengthen the friendly feeling happily subsisting between the United States and France.

The zeal with which he has fulfilled his former instructions leaves no doubt that he will carry out this his last commission in a manner agreeable to Your Excellency.

Your good friend,

WOODROW WILSON.

By the President:

W. J. BRYAN,
Secretary of State.
Washington, June 23, 1914
Under date of June 25th, Mr. Wilson wrote the following personal letter:
THE WHITE HOUSE
Washington

June 25, 1914.

MY DEAR MR. HERRICK:

I cannot sign your letter of recall, though I know you wish to be relieved of the duties at Paris, without expressing my regret that the government is to lose your services and my sincere appreciation of the diligence and intelligence with which you have performed the very difficult and delicate tasks of that important embassy.

I sincerely hope that the future will bring you additional honor and satisfaction.

Cordially and sincerely yours,

WOODROW WILSON.

Hon. Myron T. Herrick,
American Embassy, Paris, France.
"To this I answered," continued Mr. Herrick, "expressing the thanks and appreciation which I felt most deeply. I then wrote to the Department stating that I wished to sail on August 8th and asking for sixty days' leave of absence. I added that should Mr. Sharp decide to arrive in Paris before the middle of July, when the French President was leaving for Russia, I could arrange to be out of France and leave my letter of recall to be presented by the new ambassador with his letters of credence.
"When the time arrived to take my proposed leave, events of grave importance had happened. Moreover, Mr. Sharp had telegraphed that he would not sail till late in July, so I remained at my post. Then, on August 1st, Mr. Bryan cabled me saying, 'Since the situation in Europe is so critical, will you kindly remain until Ambassador Sharp arrives? The Department is asking him to sail as soon as possible.' In the same telegram he desired me to ask Ambassador Thomas Nelson Page not to quit Rome even if Italy remained neutral. Mr. Page was then starting for America on leave and had already reached Paris. He took the first train back to Rome." Mr. Bryan sent the following cable on August 25th:
"Date of sailing of Ambassador Sharp is to-morrow. It is earnestly desired by the President that, in view of the present extraordinary conditions, the rules of European Courts, followed in ordinary times, be suspended on this occasion. It is the President's desire that you shall continue to hold office of ambassador until the time shall have been agreed upon for the transfer to Mr. Sharp. In the meantime, Mr. Sharp will come to Paris, remaining there unofficially until he can secure a house and make other necessary arrangements.

"The President desires that the change in ambassadors shall be delayed until the strain is passed; he appreciates very much the splendid service which you have rendered. After Mr. Sharp's arrival you and he may confer, and then communications can be exchanged as to the proper time for him to assume charge. We are anxious that all Americans shall return home as soon as transportation can be had and are very much gratified at the success you are having in getting our people out of France."
This was followed three days later by another cable saying:
"You may state that, in view of the unusual conditions in which the embassy is placed at the present time, the President desires you to remain until you receive further instructions and that Mr. Sharp has been asked to proceed to Paris but will not immediately assume the duties of ambassador. The date has not yet been fixed for the formal transfer of the embassy."
On September 5th Mr. Bryan again cabled:
"President fears, from a private telegram received, there may be misunderstanding in regard to Sharp's position. He will be engaged in personal matters such as renting and furnishing house, etc., until time arrives to transfer embassy. If he assists you it will be in the capacity of a private citizen and not officially. The President will desire to consult both of you in regard to the proper time to transfer embassy."
"I was much relieved by these instructions. From the moment I got word that Mr. Sharp was sailing on August 26th and that we were to confer together and arrange between us as to when he would take over, I became anxious as to the outcome. Arrangements like that never work satisfactorily, whether in business, war, or diplomacy. Under the conditions then confronting me---I got the second cable the day the Battle of the Marne started---I knew that any divided responsibility would be fatal. I immediately telegraphed this thought and my thanks, saying that in view of the difficult negotiations and complex problems constantly arising and requiring immediate decision, divided responsibility or even the appearance of it would be most injurious to the administration of the affairs of the embassy!
"Two days after the French government and the diplomatic corps went to Bordeaux, I wrote a personal letter in which I explained to the President the circumstances of my remaining in Paris after their departure, and I endeavored to remove any fears he might have as to this act being misconstrued. I added, 'The entire French press seems to interpret correctly the sentiment of the people in its expression of satisfaction that the American embassy remained in Paris during this crisis. In all that has been said and printed, there has been nothing that would in any way grate upon the sensibilities of the other nations, or that is inconsistent with our position of strict neutrality!
"Meantime, Mr. Sharp had arrived. It was on September 3rd, the day after the government had left Paris. On the 16th he informed me that he wished to take over the embassy about October 1st. I cabled this to the Department, saying that it was entirely satisfactory to me and that I proposed to sail September 26th, subject to the Department's approval. This brought the following reply:
"'The President desires to have submitted to him any arrangement between yourself and Mr. Sharp as to when the latter shall take over the Embassy and that no action shall be taken until he gives his approval. You will show this telegram to Mr. Sharp.'
"This at least was definite and I settled down to work. It was evident that the President had taken hold of the unfortunate situation which had been allowed to arise, and I had entire confidence in the decisions he would take. Events showed that I was not mistaken. Among other proofs was a personal letter I received from him a few days later. [NOTE: See p. 175 for the text of this letter.]
"My predecessor, Robert Bacon, had also come to France, animated by an unselfish desire to be of use to the French people, for whom he had a deep affection. He worked night and day to that end, kindly offering me his services but never giving me any trouble. But the wags had to have their say, and it was often remarked that the United States now had three ambassadors in France. An old lady who had come to Bliss to get some paper or other authenticated even went so far as to urge that the signature of 'all three ambassadors' be appended to it. Whether she was a practical joker or not I never knew."
.
MR. HERRICK RETURNS TO AMERICA
THE picture of Mr. Bryan's troubles during these trying days led the ambassador one day to the following reflections:
"It seems to me that the case of Mr. Sharp is full of instruction for the future. Nothing was more natural than that he should have wanted to sail for France and enter upon the duties of his office. After being appointed, he had delayed for two months in order to settle his affairs and take a cure for his health. There was at that moment no reason for hurry; I had already stayed in Paris for more than a year beyond my time and could readily be expected to add a few more months to this period without inconvenience. But by the end of August he was ready to start, and no one can find fault with him for doing so. It was here that the responsibility fell upon other shoulders, and the decisions taken were not, in my opinion, happy.
"While Mr. Sharp was recuperating at Cambridge Springs, a situation of unexampled gravity had arisen in Europe, touching us to a degree that had only one precedent, and that brought on the War of 1812. I found myself in the center of the storm, and had been forced to take decisions involving serious consequences. What I did had fortunately, so far, met with the generous approval of my government and, as Lincoln might have said, it was no time to swap horses. Certainly it was not the time to ride two. There was no occasion for considering my feelings or Mr. Sharp's; the one thing in this vast emergency that was worth bothering about was the interests of the United States. A decision should have been taken with this alone in view. Either Mr. Sharp ought to have been sent immediately to take my place or he should have been held at home and I requested to remain on duty until the war was over (nobody then thought it could possibly last six months), or until its first critical phase was terminated.
"But this is exactly what was not done; no clear-cut decision was taken; Mr. Sharp was allowed to sail---as he wanted to do and had a right to do unless stopped---while at the same time I was asked to remain and cooperate with him. As a consequence, we had two ambassadors in France during all of September, October, and November of 1914. The one, by the very force of things, was irritated and unhappy; the other trammeled in his decisions, uncomfortable about his colleague, not knowing from day to day how long he was to remain.
"I have always believed that Mr. Wilson wanted to keep me in Paris at least until the emergency was over. The responsibility resting upon his shoulders was so vast that self-interest and common sense, let alone his keen intelligence, would have suggested to him that September, 1914, was a poor time for changing ambassadors in France. And the imperative telegrams sent in his name indicate a certain irritation at finding himself in a position which he seemingly deplored. I do not know what passed between him and Mr. Bryan, or between Mr. Bryan and Mr. Sharp, though I have a few notions on the subject. One is that the sending of Mr. Sharp to France without at the same time relieving me was not inspired by Mr. Wilson. However, the President at this time had more to do than any one man could well accomplish, and what took place is chiefly a thing from which we might learn a lesson for the future.
"I am not led to this conclusion merely by the sentiment of gratitude I feel for him. This, of course, may have something to do with it. One can never tell. For he showed me a fine consideration and supported me in everything I did. I did not like his proclamation on moral neutrality, or what seemed to me his too great patience in the face of German insults to our country; and of course I fought him and criticized him during the presidential campaign of 1916; but he was a patriot and a gentleman, and I can never forget his attitude to me.
"November was now here, Congress would soon be assembling, questions would be asked, complaints made about the legality of two ambassadors drawing pay, and all sorts of annoyances were in sight, whose burden would fall upon the President rather than upon Mr. Bryan. I learned more about all this when I got home. Some of my too-zealous but devoted friends were getting ready to attack the administration for having me relieved; partisans of Mr. Bryan and Mr. Sharp were no less prepared to find fault with keeping a Republican in an important post for so long a time---all the unfortunate play of personal and party politics.
"It is no wonder, then, that the President decided that the change would have to take place, and so on November 5th a telegram was sent me saying that the President believed the time was approaching when Mr. Sharp should assume the duties of ambassador, and that he hoped that December 1st would be a convenient date for me. I was asked to express informally to the Minister for Foreign Affairs how deeply sensible the President was of the confidence which the French government had shown in his representative, and how much gratified he had been to learn of the sympathetic relations which I had succeeded in establishing in the performance of my duties.
"I was also requested to say that the President had gone very far in his desire that the representative of the United States should be of service to the French people at a time of great anxiety and to explain the situation which might arise when Congress assembled, It was possible that questions would be asked on the floor and discussions provoked which might be misconstrued as having an unfriendly intention toward the French people. I was directed to point out that the President had kept me in Paris long after my successor bad been appointed, solely because of information which had reached him to the effect that my retention there would be especially gratifying to the French Government.
"I acknowledged this telegram and thanked the President and the Department for their great consideration. After its contents had been communicated to the French government, I asked the State Department's permission to show it to Mr. Sharp, as I desired to sail November 28th.
"I have always considered that the terms of this despatch give ample proof of Mr. Wilson's sympathetic feelings toward France. In it he goes as far as any President---especially one holding his ideas about neutrality---could go, in an official document, to show this sentiment.
"I would have been glad to make a visit to Bordeaux for the purpose of saying good-bye to President Poincaré and to my colleagues, but this would have involved a trip of some days. With all I had to do, of an official and personal nature, before starting, every hour was precious, and I was not a little tired. I had almost forgotten how to rest during the past five months, and the thought of being on a ship, far from troubles and complications, seemed like heaven. I therefore turned over my office to Mr. Sharp, asked him to present my letters of recall with his letters of credence, and sailed for home November 28th."
Thanksgiving Day fell two days before the ambassador's departure. That evening the members of the staff, the rector of Holy Trinity, Dr. S. N. Watson, and a few other friends were assembled by Mrs. Herrick in the now bare and dismantled dining room of the embassy. A little American flag and a little French flag were at each plate. The ambassador would have no sadness, but insisted upon teasing and joking all in turn. The next night all met again at the home of Robert Bliss for a last dinner, and in the morning Mrs. Herrick, the ambassador, and Laurence Norton, his private secretary, left for the United States.
Mr. Herrick wrote to the President on November 20th:
"I am taking this last opportunity, as the pouch closes, to again thank you for your expressed approval of my course as your representative here.

"Your letters of commendation are the most valuable souvenirs that I have of my public service.

"Whilst I would have deemed my departure in this crisis, of my own initiative, in a sense a desertion, I now turn over this embassy with a distinct feeling of relief, comprehending fully the circumstances which have rendered it practically necessary for you to make the change at this time.

"I am surprised and embarrassed by the undue importance that has been given my services during these eventful days when everything that is valued here is at stake. Our people and our newspapers are prone to give either undue praise or undue disapproval---they take no middle course. Having experienced both phases, I am quite inclined to think the latter phase---when one is conscious of being right---less embarrassing and easier to bear than the former.

"I have endeavored to carry out in fact and in spirit your desires in relation to Mr. Sharp since his arrival. If the incongruities of the situation in which we have been placed, and the intensity of overwrought people, have caused me to fall short of your expectations in this respect, I hope that you will I consider that it has been my endeavor to meet your wishes to the fullest extent.

"I shall take the first opportunity on my return to America to pay you a brief visit.

" I am, etc."
A considerable gloom fell upon Paris when the news got abroad that Mr. Herrick was leaving. It is true that the famous "race to the sea" had terminated in the discomfiture of the German plans and Paris was long since felt to be out of danger. Nevertheless, his going was a source of anxiety as well as of regret. The French saw in it the disappearance of a reserve force upon which they had learned to rely in moments of supreme peril; the Americans were left without the inspiration of his energy and smiling courage; and the latter were also robbed of a daily source of national pride. With quiet mastery he had gathered into his capable hands the direction of all their efforts; he was their guide in every new endeavor, their reliance whenever things went wrong. But above all, he was like a battle flag which in time of danger all could see and rally to.
At the station were gathered every notable that Paris held. The government and the diplomats were still in Bordeaux, but prominent men from other spheres and the soldiers were on hand. Chief amongst the latter was Gallieni. He and Mr. Herrick had grown to know and rely upon each other in the critical days of September, and if the military genius of the one had saved the town from the Germans, the calm courage of the other had stood ready to attempt its rescue in case that genius failed. An opportunity, fleeting in the annals of a lifetime, had come to each, and each had seized it with a rapid confidence which almost made one think they had anticipated and prepared for the emergency.
Two officers arrived at the station to bring the thanks of the wounded French who were now being cared for in great numbers at the American Ambulance. One of them, whose right arm was gone, handed Mrs. Herrick a bunch of chrysanthemums, saying, with fine I gallantry: "Madame, I regret to serve you with only one hand, but all France serves you with her heart."
The following letters are taken almost at random from the large number that Mr. Herrick received on the eve of his sailing:
GOUVERNEMENT MILITAIRE DE PARIS
Cabinet du Gouverneur
Paris, le 26 Nov. 1914.

MY DEAR AMBASSADOR:

At the moment of your departure from Paris, please permit me to tell you how grateful I am for the sympathy that you have shown in the course of the last three months, for our country, for Paris and for her governor. This sympathy has been a comfort to me and I shall never forget it.

If nothing prevents I shall go to bid you farewell when you depart.

Please accept, my dear Ambassador, the homage of my highest consideration and of my profound devotion.

GALLIENI.

.

RÉPUBLIQUE FRANÇAISE
Affaires Étrangères
November 27, 1914.

DEAR MR. AMBASSADOR:

I was greatly touched by the letter which you wrote me, and please accept the expression of my liveliest gratitude.

I am sure you realize that those of my compatriots who have had the privilege of knowing you, and indeed all French people, have felt themselves drawn toward you by a sympathy which went out as much to the man as to the representative of a country to which so many ties bind us.

As for myself, you know how preciously I guard the memory of the relations which I have had the honor to hold with you. It is with joy that I note your promise to come back to France after the war. You will find, be assured of that, the same friends which you are now leaving, and who will never forget the services that you have recently rendered to the people of Paris.

I shall not fail to transmit to President Poincaré your regret at not being able to make a visit to him before your departure.

Believe me, with the expression of my highest consideration and my devoted sentiments,

DELCASSÉ.
[NOTE: The French Minister of Foreign Affairs]

.

MINISTÈRE DES FINANCES
CABINET DU MINISTRE
Bordeaux, NOV. 22, 1914.

MY DEAR AMBASSADOR:

The news of your coming departure leaves us with an impression of deep sadness---you have always been a sincere friend of our country and we consider your presence among us a great comfort.

You can at least tell your compatriots with what admirable gallantry and in what spirit of union the French stand this terrible fight and why they believe it will be followed by victory.

Madame Ribot sends greetings with mine, and I beg you to believe me, etc., etc.

N. RIBOT.
[NOTE: The French Minister of Finance]

.
Senator D'Estournelles de Constant, the discouraged yet faithful apostle of peace, wrote in his excellent English:
DEAR FRIEND:

We read, alas, in all our papers, that you are leaving.

I can hardly believe it.

I thought you would have been kept here forever as the good genius, the good friend, the extraordinary ambassador!

And now I feel so far from you,---thinking that we shall not see you any more in your hospitable home of la rue Françols Premier or at Créans or at Buc---flying in aeroplanes!!

How sad!

Do send me anything you can about what you have done for the sake of civilization and for the love of France---I will write a souvenir of you....

Poor France, She needs friends like you.

Believe in us, dear Herrick, as I will believe in you, forever.

Yours, with all my family---wife, boy and girl, Saul and Henriette,

d'ESTOURNELLES DE CONSTANT.

Créans (Sarthe)
23 November 1914
A letter from Sir Edward Grey, the Foreign Secretary (now Lord Grey), dated October 6, 1914, says:
"I have lately seen more than one of our people who has been in Paris. They have as is inevitable many very sad things to tell about wounded soldiers and the sufferings of war.

"But everyone has but one thing to say about the American Embassy and the sympathy shown and the help given by its staff and especially by yourself.

"I wish you could overhear the warm terms of admiration and gratitude in which they all speak of you, and I want to send this line to tell you of it and to say how very grateful I feel too. From the national point of view alone the protection and help of your Embassy has been most valuable, but it is not that alone: it is the sympathy with which it is given that touches us so much in this time of struggle and trial, when all that we care for is at stake.

"I little thought when we met in that fine weather of April on the occasion of the King's visit to Paris, when everything seemed so peaceful, that this awful time was coming upon Europe."
Mr. Brand Whitlock wrote on October 22, 1914:
I do not like to bombard you with compliments, as the French say, but I should like you to know that I have been exceedingly proud of the manner in which you have handled your high and delicate mission; I have been proud not only as an American, but as an Ohioan, and more than all, as a friend. I have heard in that curious way in which news spreads through the world in these times what you have done, and I congratulate you on it all.... Some day, when we meet again, though God knows when that will be, we shall have much of reminiscence to exchange. In the meantime I send you my highest regards and best wishes. . . ."
Monsieur Jusserand on October 23, 1914, sent him a charming letter from Washington in his wonderful English:
"Not a day passes without my blessing your name and wanting to tell you so.... I hope you know how I feel toward you, and how greatly and gratefully I admired how cleverly you were handling a most difficult situation. Letters from American friends at Paris are loud in your praise; here it is the same, and if the papers are to be trusted, and sometimes they are, you are in a fair way to become a prophet in your own country.

"Stay in the meantime in mine; you are too useful there to be spared; you must respect and obey, moreover, the orders of your own President who in his telegram of instruction said: 'the change in Ambassadors shall be delayed until the strain is passed.' Who could pretend that such is the case? I wish for my country's sake that there were no strain any longer; but there is.

"We returned here after a complicated journey, lasting three weeks, more picturesque to narrate than pleasant to perform....

"All along our journey when we were in trouble we were helped by Americans. The example you gave when we started, allowing your Embassy to be encumbered with our luggage, received since without one piece missing, was instinctively followed by all. Known or unknown, all, when there was need, offered a helping hand . . ."
Melville E. Stone, general manager of the Associated Press, wrote on October 29, 1914:
Let me say that if ever I was proud of the work of an American ambassador all the sensation fell into insignificance beside my admiration for you. You won. golden opinions all over the world.... Every refugee coming over speaks in the highest terms of the remarkable efficiency, courtesy, and effectiveness of our embassy in Paris. Others in other capitals have done well but the monument you are building for yourself in these trying times certainly rises higher than any I know of. . . ."
It is not possible to quote even extracts from a tenth of these letters. A paragraph of one from a business man must be added to those from official people and serve merely as a sample. It was dated October 31, 1914:
". . . I take off my hat to you from across the Atlantic, and beg to add my personal voice to the swelling chorus of approval of you and your admirably performed work. It is magnificent. I define magnificent as being the voluntary sacrifice of comfort and material things for the welfare of one's fellow-men, and for the enduring honor and glory of one's country; and it is in this sense that I speak of your work as magnificent. Only this morning while I was at breakfast, one of our engineers came to sit with me a while to tell me about the splendid treatment his mother had received at your hands. . . ."
Lindley M. Garrison, then Secretary of War, sent him a cordial note on October 23, 1914, enclosing a letter he had received from a young woman of his home town. Her being "the beauty of the village," he said, may not add anything to her written word, but it does not detract from it, and he knows from his own experience how pleasant it is to receive occasionally some little recognition of what one has tried to do. The enclosure, addressed to Mr. Garrison, says:
"Ever since I returned from Europe I have wanted to put in my little word, as it were, and tell the government how splendidly Mr. Herrick has taken care of his Americans in Paris. I was there during those first terrible days of the declaration of war and the mobilization of the troops, and I, for one, being absolutely alone there in Paris, know how much his reassuring words and his untiring efforts to help all Americans meant to me. This is a little word of praise, but I did want to say it, because Mr. Herrick deserves it, and much, much more, and I know of no one better to say it to than you."
Mr. Herrick had sent Mr. John W. Garrett (now our ambassador in Rome) to Bordeaux to take charge of business which had to be transacted there with the Minister of Foreign Affairs, since all departments of the government had been moved to that city on September 2nd. Mr. Garrett wrote a long personal letter to the ambassador on November 17th giving him various items of official and semi-official news. Some of the paragraphs will indicate the way Bordeaux received the announcement of his coming departure:
"Sir Francis Bertie said to me last night: 'So Herrick is leaving on the first!' I asked him if he had had a letter from you and he said 'No' but that Delcassé had shown him the telegram from Washington, a translation of which you sent me for informal presentation to the Minister for Foreign Affairs. Sir Francis went on to tell me, very confidentially, that Sir Edward Grey had instructed Spring-Rice to say something in Washington that would indicate how they felt about your leaving and that they hoped it might be postponed as long as possible. As I have already telephoned you, Jusserand has been instructed to endeavor, with all necessary delicacy, to convey the impression that it would be agreeable to this government if no change were made until its return to Paris. I get the impression that there is a distinct uneasiness and fear that a certain lack of confidence may come about after you leave. Of course they accept, as a matter of fact, the decision that you must leave eventually. It seems to be hoped that the military situation will permit the government to return to Paris about the middle of December but it is impossible to feel any assurance as to that.

"There is a certain amount of quiet and very interesting talk about the possibility of Austria opening negotiations for peace. If Austria cannot any longer see a definite victory ahead of her she can, it is argued, make fair terms now, whereas she has nothing but dissolution to look forward to if she holds on with Germany to the bitter end. There seems to be a disposition to prevent the disappearance of Austria as a great power in the future. February is given as the time when Italy and Roumania will be ready to take active sides with the Entente."
Having been unable to obtain, through discreet suggestions at Washington, the postponement of Mr. Herrick's relief, the British government decided to mark their sentiments in unmistakable fashion, and the following instructions to Sir Austin Lee, then in charge of the British embassy in Paris (Sir Francis Bertie being in Bordeaux), were sent him by the Foreign Office:
November 24, 1914.

DEAR AUSTIN LEE:

His Majesty's Government are anxious to present Mr. Herrick with a piece of plate or some other gift as a small token of their gratitude for his untiring exertions on behalf of British subjects, both military and civilian, during the time when he had charge of our interests at Paris.

It will hardly be possible to get it to him before he leaves, but we should like him to know of the intention at once. Will you therefore take an early opportunity of mentioning it to him quite informally, asking him where he would like it to be sent?

Yours ever,

A. NICOLSON.
The piece of plate was later sent to Cleveland with the following letter:
Washington,
May 10, 1915.

DEAR MR HERRICK:

I have received a despatch from Sir Edward Grey, His Majesty's Principal Secretary of State for Foreign Affairs, in which he recalls with warm appreciation the great assistance rendered by you when, as Ambassador to the French Republic, you remained in Paris after the departure of the French Government and the British Embassy and extended your protection to the many British who turned to you for aid and advice.

His Majesty's Government desire to ask your acceptance of this piece of old English plate which they hope will serve to you and yours as a memorial of the exertions which you so devotedly and generously employed on behalf of British subjects, both soldiers and civilians, in that time of stress and suffering, and as a token of the king's grateful recognition of the same.

I take this opportunity to renew to you the expression of my highest consideration.

CECIL SPRING-RICE.
British Ambassador
This souvenir has since stood in the dining room of the farm in the Chagrin Valley near Cleveland which Mr. Herrick dearly loved and where he spent all his summers during the last decade of his life. His house is joined to that of his son by a charming loggia; the exteriors of both follow strictly farm architecture; the interior presents a delightful succession of rooms, filled with beautiful old American and French furniture in perfect keeping with the idea of a simple country house.
While at sea, a wireless message had reached the Rochambeau informing Mr. Herrick that the French government had conferred upon him the Grand Cross of the Legion of Honor, the highest distinction in its power to bestow. On reaching home he wrote to President Poincaré to express his thanks, as well as to acknowledge a cordial letter bidding him goodbye. He concludes by saying:
"Among the events of my ambassadorship, the one I shall always recall with the most tender recollection is the occasion when you summoned me to the Élysée to say fare-well. The words you a addressed to me, and the tone in which they were uttered, will be forever graven in my memory....

"Although I am far from France, dear Mr. President, my heart is still with the people I learned to love so well. While obliged, for reasons you will understand, to give up my post, I did not desert the cause in which I am so deeply interested, and I trust I may still be of service in some small way. My friends in Paris know that they have only to call upon me for any assistance within my power."
Mr. Herrick received at other periods of his career honorary degrees of LL.D. from Columbia, Harvard, Yale, Princeton, and Western Reserve universities and the University of Nancy, France; also degrees from Miami, Union, and Kenyon colleges and Ohio Wesleyan University.
His return to Cleveland was marked by ceremonies that attested the pride which Ohio felt in the fame of so gallant a son. All party lines were forgotten in this popular outburst, and from this moment on Mr. Herrick was beloved and trusted even more than before. His defeat for the senatorship two years later did not in any way alter this situation. He remained until his death preeminently the first citizen of Cleveland.
From the moment Mr. Herrick arrived home his mail was loaded with letters from many parts of the world and from all classes of citizens. Their quantity forbids the reproduction of more than two or three, and some of the more personal phrases are omitted.
Former President Roosevelt wrote on December 12, 1914:
"I greet you with heartiest good wishes and like every other American I feel that we are under a debt of obligation to you for what you have done. Good Lord, how I wish you were at the head of affairs in Washington at this time!"
A letter from Henry White, one of his predecessors as ambassador, was awaiting him,
"expressing the pride which I, in common with such of our countrymen who know anything about our foreign relations, feel in respect to your mission to France which has just come to an end, to our inexpressible regret.

"In my opinion you have added luster to American Diplomacy far in excess of any of your predecessors, save perhaps the first of them. But your position has been much more enviable than that of Franklin; for whereas he was a suppliant for favors which were certainly ungrudgingly accorded to this country through him, you have had the privilege of repaying much of that which France did then for us. And you have done so admirably.

"I felt sure that your career would be most successful as ambassador to France but I rejoice to think that it has been so to a degree far exceeding anything which I could have imagined.

"I know how injured they must feel in France at your withdrawal, for reasons purely of domestic politics, from the important work you were performing, and your recall is the strongest proof I have yet encountered of the absurdity of this country's allowing any connection between diplomacy and home politics."
The German ambassador, Count Bernstorff, wrote on January 19, 1915:
"I am directed to express to you the most sincere thanks of the Imperial German Government for the valuable assistance you rendered to German citizens who were stranded in France during the war. The Imperial Government highly appreciates the friendly aid you so readily gave to Germans who found themselves in difficulties in the enemy's country when the war began.

"This letter was intended to be addressed to you when you resigned from your post as Ambassador of the United States in Paris, a post which you held with so much distinction. As you are, however, well aware, postal and telegraph communication with Germany is practically interrupted, and I was consequently not able to address this letter to you before to-day."
The great philosopher, Henri Bergson, was one of Mr. Herrick's most treasured French friends, and a number of letters were exchanged between them after Mr. Herrick came home. Two of these follow:
MY DEAR DR. BERGSON:

I was very much delighted and deeply touched at the receipt of your charming letter, which has just reached me here.

I am disappointed that you did not conclude to accept the invitation to come to Cleveland. I hope you will decide to come over later, and in that event will be our guest. I am sure you have not the faintest idea of the high esteem in which you are held by our people, and should you visit America it would be difficult to find audience rooms large enough to hold the people who would like to hear you speak.

The sentiment for France and her allies continues to grow, and the sinking of the Lusitania caused a wave of horror to pass over this country such as I have rarely ever known. We have been greatly disturbed by the trend of events in the last two or three weeks, especially on the Russian front. We are steadily working on our relief organization and hope to continue to render all the service possible to the end, which I hope is not far distant.

As a result of the strain in Paris, Mrs. Herrick has not been at all well, and I have been in the South trying to restore her health, which, I am happy to say, is steadily improving.

We remember with great pleasure our visit with you and your delightful family, and we often wish we were back in Paris where we could give our services to the people whom we love. We are to visit the Lowells during Commencement Week, where we shall often think and speak of you.

Mrs. Herrick joins me in warmest regards to yourself and

all your family.

Yours very sincerely,

MYRON T. HERRICK.

.

Malbuisson (Doubs).
September 24, 1915.

DEAR MR. HERRICK:

I cannot tell you how affected I was by the letter which you were good enough to write to me and by the kind invitation which you sent me. How glad I would have been to accept it. But it will be impossible to come to America this year or probably as long as the war lasts. I am engaged in occupations and affairs which are too pressing for me to be able to go away from France for so long. America, however, attracts me very much, as you may well believe, and I would have gone to San Francisco and also to Cleveland if it had been at all possible. At least, I did try to do what I could for your Exposition by writing for it a résumé of French philosophy, and I will be glad to send you a copy when I return to Paris. Other résumés have been made concerning the other branches of science by other authors, and the result of this combination is an outline of French science from the beginning which has been drawn up especially for the Exposition in San Francisco by the Minister.

Major Henry Lee Higginson's letter, of which you were good enough to send me a copy, is excellent. I have read it several times, and I am going to have it read to some of my friends. The attitude of America, as you describe it to me, has only confirmed the opinion which I have always had of Americans and which I have taken occasion to express publicly here. It is that America is fundamentally idealistic, and that it will always be one in heart with those who are struggling for the highest ideals of civilization. In this she merely remains faithful to her early origins. For the United States furnishes us with the example, perhaps the only one in history, of a nationality which was founded upon one pure idea, without material interests, by men who expatriated themselves in order to attain justice and liberty.

Will you give our regards to Mrs. Herrick, thank her for her kind invitation, and tell her how much we wish we could see you all soon again, whether in America or in this Paris which retains such an ineradicable memory of you?

Please accept my most devoted esteem.

H. BERGSON.
When the United States declared war on Germany the British ambassador acknowledged a letter from Mr. Herrick as follows:
April 21, 1917.

MY DEAR COLLEAGUE AND FRIEND:

I am most grateful for your charming letter, which expresses so admirably the feelings which animate both our countries at finding themselves brothers in arms, united in the great struggle for freedom and civilisation. I feel sure you will have been deeply moved---as I have been---on reading this morning of the stirring events in London yesterday. It was a happy day for us here too, when for the first time in history the Stars and Stripes and the Union Jack flew from this Embassy side by side.

I trust you will let me know if there is any chance of your coming on to Washington, as it would be the greatest pleasure to see you again and discuss the momentous events which have taken place since we last met.

With renewed thanks for your generous words and all best wishes,

Believe me, sincerely yours,

CECIL SPRING-RICE.
---
Chapter Twenty-Eight

Table of Contents