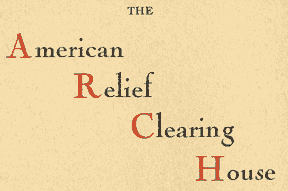 APPENDIX V
Specimen of A.R.C.H. Bulletin
American Relief Clearing House
(Comité Central des Secours Américains)
Organized 26 November, 1914
5, RUE FRANÇOIS ler -- PARIS
-------------------------------------------------
APRIL BULLETIN, 1917
-------------------------------------------------
For two and a half years Noyon was distinguished as the French city nearest to Paris in possession of the invading enemy.
At the earliest possible hour after the liberation of the city and the surrounding neighborhood, the American Relief Clearing House sent to Noyon two of its staff accompanying its own auto trucks loaded with blankets, clothing, food, milk and medicine. Twelve thousand old men, old women and young children (the young and able of both sexes having been carried off), were found left behind amidst the desolation, with no food, with not even a cooking utensil if food were obtainable. Nor were left mattresses to lie on, nor blankets for warmth.
With thoroughness the Prussians had carried out the orders of the high command as per the quotation below from the "Frankfurter Zeitung" :
"Our chief command having determined to create a sort of glacis in view of future combats, has made a large zone of devastation which may be called a war zone in all its pitilessness.

"The magnificent trunks of the trees which bordered the French roads lie on the ground to be placed as obstacles at the last moment.

"The enemy will not find a roll of wire, not a wisp of straw or hay, not a railway-point, not a spade or fork, not a well. The fields on the side of the road have been ploughed up so that if the artillery, finding the roads destroyed, should hope to pass on either side of the road, it will be obliged to undertake difficult repairs.

"Undoubtedly the persons able to work, between the age of fifteen and sixty have been evacuated, but the women, children and aged have been left in the important localities.

"Bapaume and Péronne have been entirely destroyed. Already not much of them was left. The object of the destruction was to prevent the enemy from finding the slightest shelter there."
Can you picture a city of 12,000 inhabitants left without a plate or a knife or a fork or a kettle or a saucepan ? Such were the conditions found at Noyon and like conditions will be discovered many times as the retreat continues.
Will not the United States provide us with plentiful supplies of money that we may give twice by giving quickly and helpfully to these long suffering people whose only possession is their new freedom ?
Before this war, the people of the United States had been attracted to France by its pleasures, its fashions, and its art, long having forgotten wherein lay the true glory of France. Today, Americans are beginning to appreciate that the men who defended Verdun could never have been the Frenchmen of their imagination. When the people of the United States learn more intimately that there is no man in the world who lives a more beautiful family life, no man who has a greater love for his country than the Frenchman, they will begin to look with new eyes upon the many other splendid virtues to be found in the people of France Each people has much of good to learn from the other.
The following table is interesting as showing the increase during the year 1916 over the year 1915 in the number of cases forwarded by the American Relief Clearing House, first to hospitals and ambulances and second to relief organizations :
| | | |
| --- | --- | --- |
| | IN 1915 | IN 1916 |
| To Hospitals and Ambulances | 4,787 | 11,446 |
| To Relief Organizations | 15,131 | 51,470 |
| | 19,918 | 62,916 |
Also 40,000 Kits to the soldiers each year = 80,000
---------------
Not only has there been an important increase in the number of cases sent to France through the American Relief Clearing House during last year but there has also been a notable increase in sums of money both for transmission to others and for distribution according to our best judgment. Below is a table of the more important items showing the comparison between the years 1915 and 1916:
1915

1916

Francs

CLEARING ACCOUNTS

1,329,033.87

2,446,353.14

GENERAL AND SPECIAL RELIEF

354,033.86

2,183,746.88

CLASSIFIED RELIEF :--
Clothing, Underclothing, Pyjamas, Socks, Slippers, etc

116,373.25

437,757.05

Food, Milk and Fuel

6,623.25

36,350.45

Beds, Bedding and Furniture (including Hospital Furniture)

33,559.75

365,830.75

Hospital Supplies (Medicines, Instruments, etc.)

53,318.61

234,971.05

Artificial Limbs

3,132.45

124,786.55

Relief for Blind

515.00

48,127.15

Relief for Eclopés and Objects of Recreation, Exercise, etc

9,477.45

40,040.15

Mutilated and Disabled discharged from the Army

4,637.20

161,549.20

Relief for Children

500.00

115,975.07

Serbian and Montenegrin Relief

17,385.10

356,860.30
Our publicity bureau is a modest one but it has aided in carrying accounts of the work of the American Relief Clearing House, which is also the official representative in France of the American Red Cross, to at least ten million readers. For over two years it has stimulated to an appreciable extent donations of funds and of gifts in kind not only to the Clearing House, but also to the other American relief organizations in France. In the United States it has awakened interest in France and in France it has spread the story of American sympathy and moral support.
You can send your check directly to us or to Clyde A. Pratt, Executive Secretary, War Relief Clearing House, 40, Wall Street, New York City. Supplies should be sent to the War Relief's Warehouse at 133, Charlton Street, New York City.
Board of Directors
American Relief Clearing House, Paris
| | |
| --- | --- |
| H. HERMAN HARJES | CHARLES R. SCOTT |
| WHITNEY WARREN | JAMES R. BARBOUR |
| Hon. J. RIDGELEY CARTER | WALTER ABBOTT |
| CHARLES CARROLL | M P. PEIXOTTO |
| H. O. BEATTY | RALPH PRESTON |
| GEORGE MUNROE | JAMES H. HYDE |
| Rev. Dr. S. N. WATSON | HUGH R. GRIFFIN |
| J. J. HOFF | RANDOLPH MORDECAI |

ONE OF THE DEMOUNTABLE SHEDS PLACED AT THE SERVICE OF THE A.R.C.H.
BY THE FRENCH WAR MINISTRY.
APPENDIX VI
Specimen Bulletin of the War Relief Clearing House

| | |
| --- | --- |
| Bulletin No. 169. | May 23rd. 1917 |
THE
WAR RELIEF CLEARING HOUSE
For France and Her Allies
-------------------------
EXECUTIVE OFFICES
40 WALL STREET, NEW YORK CITY
TELEPHONE: 6006 JOHN
-------------------------
F O R
FRANCE
NOTICE
It should be understood that the recent loan of the United States Government amounting to $75,000,000 for relief work in Belgium and Northern France can only be applied in those portions of Belgium and France under German domination and served by the Commission for Relief in Belgium. IT CANNOT BE A APPLIED IN TERRITORY CONTROLLED BY THE, FRENCH AND BELGIAN GOVERNMENTS SERVED BY THE WAR RELIEF CLEARING HOUSE AND AS THE NEED IS GREATER THAN EVER BEFORE WE MUST CONTINUE OUR WORK, DEPENDING ENTIRELY ON THE GENEROSITY OF THE AMERICAN PEOPLE.
A cable from the American Relief Clearing House of Paris this morning contained the good news that the S S "Canadian" has arrived safely at Bordeaux with 11,844 cases of supplies shipped by the War Relief Clearing House
But the cable also reads.
"We need monthly 2,000 tons following supplies
MACARONI AND ITALIAN PASTES

DRY VEGETABLES

CANNED STRING BEANS

BEANS
FLAGEOLETS
DRIED APPLES
TAPIOCA
SPLIT PEAS
PEAS
PEACHES
CRACKERS
RICE
FLOUR
PRUNES
SUGAR
Your generosity during the past two years has made it possible for the CLEARING HOUSE to lighten in a small way the burden being carried by our ally, FRANCE, who has borne the brunt of the war.
Now FRANCE needs our help more than ever before and the CLEARING HOUSE in placing this call before you wishes to EMPHASIZE THE IMPORTANCE OF QUICK RESPONSE.
LET US DIVIDE WITH FRANCE!
Contributions of supplies if shipped PREPAID to the Warehouse of The War Relief Clearing House, 133 Charlton Street, New York City, will be forwarded to destination in France without expense to contributors
WE WILL ACT AS YOUR PURCHASING AGENT IF YOU SO DESIRE, AND THEREBY GIVE YOU THE BENEFIT OF OUR EXCEPTIONAL PRICES. Will you kindly ask your newspaper to publish this and give it such other publicity as is possible
WE SOLICIT INQUIRIES IN REGARD TO RELIEF MATTERS
MAKE CHECKS PAYABLE TO THE ORDER OF|

THOMAS W. LAMONT
TREASURER,
AND MAIL CARE OF
WAR RELIEF CLEARING HOUSE
40 WALL STREET, NEW YORK.

Address all communications to


Executive Secretary
The War Relief Clearing House
For France and Her Allies
EXECUTIVE OFFICES
40 WALL STREET.
NEW YORK CITY

WAREHOUSES
133 CHARLTON STREET
NEW YORK CITY
HONORARY VICE-PRESIDENTS
HON. ROBERT BACON, Former Ambassador to France
Former Secretary of State
HON. MYRON T. HERRICK, Former Ambassador to France
MR WILLIAM F. McCOMBS
PRESIDENT
MR. A. BARTON HEPBURN, Chairman of the Board of Directors of the Chase National Bank
VICE-PRESIDENTS

MR. S. R. BERTRON, of Bertron,Griscom & Co., Bankers
MR. FRED I. KENT. Vice-President, Bankers Trust Company
W. T. P. HOLLINGSWORTH , President R. U. V. Company
MR. LLOYD WARREN Architect.
MR. W. FORBES MORGAN, of Morgan, Livermore & Co., Brokers
MR. R. L.BACON of Kiesel, Kinnicutt & Co., Bankers.

TREASURER

MR. THOMAS W. LAMONT,, of J.P. Morgan & Co.

EXECUTIVE COMMITTEE

MR. HORACE E. ANDREWS, President, New York State Railways Company
MR. CHARLES R. BANGS, of American Telephone and Telegraph Company
MR. EDMUND BAYLIES, of Carter, Leyard & Milbern
MR. C. A. COFFIN, Chairman, Board of Directors of the General Electric Company
MR. WILLIAM GREENOUGH, of Patterson, Eagle, Greenough & Day
MR RALPH J. PRESTON.
MR. FRANCIS LOUIS SLADE.
MR. HENRY W. TAFT. of Cadwalader, Wickersham & Taft.
MR. CORNELIUS VANDERBILT
MR. WHITNEY WARREN.
SECRETARY OF EXECUTIVE COMMITTEE, MR. WALBRIDGE S. TAFT, of Cadwalder, Wickersham & Taft.
| | |
| --- | --- |
| CHAIRMAN OF FINANCE COMMITTEE | MR. HORACE E. ANDREWS, President, New York State Railways Company |
| CHAIRMAN OF COMMITTEE ON FOREIGN RELATIONS | MR. E. C. BACON. of J. P. Morgan & Co., Bankers. |
| CHAIRMAN OF TRANSPORTATION COMMITTEE | MR. B. D. CALDWELL. President, Wells Fargo & Co., Express |
| CHAIRMAN OF PURCHASING COMMITTEE | MR. FREDERICK A. JUILLIARD, of A. D. Juilliard & Co. |
| CHAIRMAN OF AUDITING COMMITTEE | MR JAMES MARWICK, of Marwick, Mitchell, Peat & Co. |
EXECUTIVE SECRETARY, MR. CLYDE A. PRATT
ASSISTANT SECRETARY. MR. YALE W. BURTCH
----------------------------------
CORRESPONDING BODY IN FRANCE
AMERICAN RELIEF CLEARING HOUSE
OFFICES:
5. RUE FRANCOIS IER
PARIS

WAREHOUSES:
23. RUE PIERRE CHARRON
PARIS
UNDER THE DISTINGUISHED PATRONAGE OF
MONSIEUR RAYMOND POINCARÉ, President of the French Republic
HIS MAJESTY THE KING OF THE BELGIANS
HIS MAJESTY THE KING OF ITALY
HIS MAJESTY THE KING OF SERBIA
HIS MAJESTY THE KING OF MONTENEGRO
--------------------------
HONORARY PRESIENTS
HON. MYRON T. HERRICK

HON. ROBERT BACON.

PRESIDENT,
H. HERMAN HARJES.
SECRETARY
CHARLES CARROLL
VICE-PRESIDENT,
WHITNEY WARREN
ASSISTANT SECRETARY
RANDOLPH MORDECAI.
DIRECTOR GENERAL,
H. O. BEATTY.,
TREASURER
HON. J. RIDGELEY CARTER
COMPTROLLER, M. P. PEIXOTTO.
EXECUTIVE COMMITTEE
H. HERMAN HARJES, Chairman
WALTER ABBOTT - GEORGE MUNROE - CHARLES CARROLL
HON. J. RIDGELEY CARTER -- HUGH R. GRIFFIN- RALPH PRESTON
J. J. HOFF -WHITNEY WARREN- REV. DR. S. N. WATSON - JAMES R. BARBOUR
JAMES H. HYDE - M. P. PEIXOTTO - RANDOLPH MORDECAI
CHARLES R. SCOTT, Hon. Secretary
ADMINISTRATIVE COMMITTEE
| | | |
| --- | --- | --- |
| H. O. BEATTY | CHARLES R. SCOTT | RANDOLPH MORDECAI |
| | JAMES R. BARBOUR | |
HON. AUDITORS
MSSRS. DELOITTE, PLENDER, GRIFFITHS & CO.
ACCOUNTANTS
MARWICK, MITCHELL, PEAT & CO.
The American Relief Clearing House, Paris, France.
There has been formed in France under the sanction of the French Government The American Relief Clearing House, with the Ron. Robert Bacon, as Honorary President, and Mr. H. H. Harjes, of Morgan, Harjes & Co., as President, with the object, among others, of receiving and properly distributing contributions for the relief of sufferers of France and her Allies.
Proper record will be made of its work and final account thereof will be rendered.
-----------------
War Relief Clearing House for France and Her Allies, New York City.
For the purpose of co-operating with the movement in France a complementary association has been formed here under the name of War Relief Clearing House for France and Her Allies. Its objects are.
I. ---To gather through the American Relief Clearing House of Paris or otherwise, and to disseminate in this country accurate information as to where relief is most urgently needed and the nature of the supplies which are required.

II.---To co-operate with relief organizations in different parts of the country engaged in like service, and, by placing at their disposal the facilities of the Clearing House, to aid in the distribution of Such funds or supplies as may be contributed.

III.---To establish a strict accounting system for all money and supplies received and disbursed or distributed.

IV.---To prevent duplication in distribution of relief.

V.---As incidental to the foregoing the Clearing House shall, among other things.

(a) Supply information as to means and cost of transportation, aid in securing the best possible arrangements and terms therefor, give proper shipping directions and, if desired, take charge of shipments;

(b) Upon request, act as purchasing agents for affiliated organizations in order to secure the most favorable conditions of price, quality and delivery;

(c) Assist affiliated organizations in the verification and certification of the accounts of their receipts and disbursements when desired.
In order that free service shall be rendered by the Clearing House to the relief organizations which shall be or become affiliated with it, the Clearing House will itself defray the clerical and other expenses incident to the carrying out of its purposes. No contributions will be solicited on account of such expenses from any of the affiliated organizations.
----------------
WHAT THE CLEARING HOUSE HAS DONE
The War Relief Clearing House for France and Her Allies, working in close affiliation with the American Relief Clearing House, which is recognized by the French Government as an official representative in France of the distribution of American charity, has forwarded more than 88,000 cases of relief supplies, valued in excess of $6,000,000.00 and has received more than $1,632,000.00 in cash. It is in touch with more than 5,000 relief organizations, societies, schools, churches, clubs and groups of individuals, located in various parts of the United States, Canada, Hawaiian Islands. Cuba, Bermuda, etc., in no sense supplanting these organizations, but lending them its exceptional facilities, FREE OF CHARGE, in order that the charitable work going on in this country may not suffer from duplication. inefficiency or wasted effort
WHAT THE CLEARING HOUSE DOES.
1. It gives its services and information FREE to all contributors.
2. It co-operates with the American Relief Clearing House of France and its Committees, representing the various Allied countries. Such Committees operate under the patronage of the Heads of the respective Governments.
3. It is kept reliably informed as to what form of relief is most needed and where, and disseminates such information to affiliated organizations in America.
4. It acts as a purchasing and forwarding agent for organizations and individuals wishing to contribute funds or supplies, thereby giving contributors the benefit of its exceptional prices.
5. It obtains free shipment, with few exceptions, for contributions from New York to the designated destination in Europe.
6. It enters contributions of supplies into ports of the Allied countries, free of Customs duties.
7. It is given free transportation for supplies over the French and Italian railways.
8. It delivers supplies where they are most needed by the quickest and surest route.
9. It does away with the former confusion, delay and waste.
10. It makes NO CHARGE for its services, and all contributions for relief are delivered intact, without deduction for operating expenses.
11. IT SOLICITS INQUIRIES.
TOBACCO.
Contributions of tobacco for France can be forwarded only to the Minister of War, to whose judgment the distribution of such contributions is left. It is permissible for contributors to express a desire that their contributions be distributed in certain regions or to certain units, but the military authorities reserve the right to judge of a possibility of satisfying such requests.
PROHIBITED ARTICLES
The laws of France prohibit the importation of MATCHES, PLAYING CARDS and ALCOHOL. These articles must not be placed in packages with other things, as their presence may subject the entire package to seizure.
Contributors desiring to forward medicines and drugs, such as chloroform, ether, etc., are requested to communicate with the War Relief Clearing House in all cases in advance shipment, and if possible arrangements will be made for the handling of the contributions. THESE MATERIALS SHOULD ALSO BE PACKED IN SEPARATE PACKAGES.
PACKING
Inasmuch as FREE OCEAN TRANSPORTATION is given for contributions of articles, it is very much desired that shipments be packed in bags or wooden cases, not exceeding eight (8) cubic feet in measurement. It should be borne in mind that cases are subjected to more or less rough handling and they should be of substantial material, and when possible, properly bound with metal strips.
On account of scarcity of labor in France, the weight of cases should be limited to 100 pounds whenever possible, as such cases can be handled more promptly than heavier ones.
All non-breakable dry goods such as clothing, beds, blankets and rubber goods, bandages or similar hospital supplies should be compactly and strongly wrapped, preferably in burlap. Sugar bags, potato sacks and grocery bags, when lined with waterproof paper, will serve very well for this purpose, if in good condition.
Fragile or breakable articles or those which by leakage might damage other goods, must be securely packed in straw or excelsior in wooden boxes.
MARKING
Shipments contributed to the American Relief Clearing House, Paris, for distribution must be marked

From...........................................................................
(Name)

......................................................................................
(Address)

FOR EXPORT

To WAR REFLIEF CLEARING HOUSE,
133 Charlton Street
New York City

Shipments for particular consignees, comprising hospitals, relief organization, etc., in France must be marked

From..................................................................................
(Name)

...........................................................................................
(Address)

FOR EXPORT

To WAR REFLIEF CLEARING HOUSE,
133 Charlton Street
New York City

For ......................................................................................
(Name of Consignee)

............................................................................................
(Destination)
All packages must be PLAINLY MARKED to avoid loss.
Each package should contain a detailed list of contents, and a copy of such list with notice of shipment and Bill of Lading should be mailed to the Executive Secretary of The War Relief Clearing House, 40 Wall Street, New York City. No communications, other than lists of contents, can be allowed to go forward in packages.
TRANSPORTATION.
Contributions of supplies may be forwarded by freight, express or parcel post, PREPAID to New York, marked in accordance with instructions given above. The principal express companies will accept shipments addressed to The War Relief Clearing House, New York, at two-thirds of the regular tariff rates.
The French Government and the French Line will provide free ocean transportation for War Relief Clearing House shipments consigned to the American Relief Clearing House at Paris for distribution, when packed in accordance with instructions.
To aid the Clearing House the French Government has granted the privilege of entry free from French import duties and of free transportation over French railways of articles consigned to the Clearing House.
DISTRIBUTION.
The American Relief' Clearing House of Paris has inaugurated a system whereby its various investigating committees carefully determine the needs of sufferers and supervise the distribution of supplies distributed through the Clearing House.
Contributions for particular consignees, if recognized hospitals, organizations or societies, are accepted by the Clearing House for delivery as consigned; but as the American Relief Clearing House of Paris, through its investigations, knows at all times where the need for relief is most urgent, contributors are urged to leave, as far as possible, the distribution of relief supplies to the discretion of the American Relief Clearing House. Shipments of supplies cannot be accepted for delivery in France when consigned to individuals other than soldiers or those whose names stand for recognized relief work.
NOTICE.
Shipments will be forwarded on first available steamer. The War Relief Clearing House does not in any case assume liability for loss or damage to shipments, nor does it agree to insure. Upon advance request, The War Relief Clearing House will arrange for war and marine insurance at current rates, at the expense of the shipper
APPENDIX VII
EXTRACT
Letter from the Hon. WILLIAM G. SHARP
American Ambassador to France
Paris, 29th July, 1915,
The Honorable
The SECRETARY OF STATE,
Washington.
Sir,

Referring to your telegram No. 278 of November 18th, 1914, I now have the honor to enclose a copy of the Statement of Accounts of the AMERICAN RELIEF CLEARING HOUSE to the 30th of June, 1915. As this report substantially covers the work of the first six months of the actual operations of this organization, it seems quite appropriate that it be at this time transmitted to the State Department, under whose authority and sanction it was created.

Even a cursory examination of this Statement shows it to be most instructive, for instead of merely dealing in a mass of dry figures usually involved in such a record, a great amount of valuable information bearing upon the relief which this Clearing House has extended to those in distress is to be found in its pages.

. . . . . . . . . . . . . . . . . . . . . . . . . .

I can with great pleasure and propriety certify to the efficiency with which this organization has carried out the work for which it was instituted. Its actual task, aside from merely laying out its plans and perfecting the organization, can be said to have only commenced with the beginning of the present year. During the following six months which are covered by the enclosed Statement of Accounts, about ten thousand cases have been received, nearly all of which, by the first day of the present month, had been distributed, while several thousand other cases are in transit from America.

The future good that this organization can accomplish would seem to depend entirely upon the amount of aid, both in money and goods, which is placed at its disposal to distribute. The service of all of its most efficient men being entirely voluntary, the cost of administration has been relatively small, thus ensuring the greatest value in returns from the contributions received. Even the money used in the actual administration of its work has been advanced by the members of the Clearing House themselves.

In thus heartily endorsing the splendid work that has been accomplished during the first half of this year, I feel that I am but performing a duty towards the members of the Clearing House, who took upon their shoulders a burden which this Embassy, owing to its largely increased amount of work, could not possibly have undertaken to do, even if it were within its proper province to have so done.

While, unfortunately, I have not found time to attend as regularly as I could have wished the various meetings of the General Committee of this organization, yet, when I have done so, I have been very much impressed with the earnest attention that has been given to the work in hand.

In transmitting this report, it has given me not only much pleasure in informing the State Department as to, the manner in which, under its telegram of instructions, the generous aid which sympathetic Americans have sent to suffering France has been distributed by the American Relief Clearing House, but to express the earnest hope that through a continuance of that help its good work may be permitted to further succor the distressed of this land.

I have the honor to be, Sir,

Your obedient servant,

(Signed)
WILLIAM G. SHARP.
---
Table of Contents