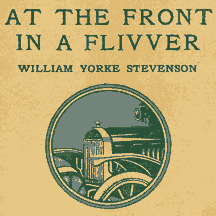 Footnotes
Chapter One
General Order No. 189.
Group D. E. Staff Headquarters, S. C. No. 6611.
November 5th, 1916.

The General Commanding the Group D. E., cites by the order of the Army Corps: Sanitary American Section No. 1, under the command of the Lieutenant Robert de Kersauson de Pennendreff and of the American Officer Herbert Townsend: In August and September, 1916, has assured the evacuation of the wounded of three Divisions successively in a section particularly dangerous; has asked as a favor to retain this service, in which officers and conductors have given proof of the most brilliant courage and of the most complete devotion.

(Signed) The General Commanding Group D E.

MANGIN.
2. This has proved to be the case.
Chapter Two
3. The reason is that all skillful men, not at the Front, are in the munition factories; only old or very young men are used for this purpose around Paris.
4. Powel Fenton, Section No. 3. University of Pennsylvania, Philadelphia. Son of Dr. Thomas H. Fenton, president of the Art Club of that city. Fenton, later, served at Saloniki in Section No. 10.
5. Danforth B. Ferguson, of Brooklyn, New York.
Chapter Three
6. Francis P. Magoun, Harvard; Cambridge, Massachusetts.
7. Charles P. Winsor, Harvard; Concord, Massachusetts.
8. L. Brooke Edwards, Philadelphia.
9. John G. Underhill, Williams College; Flushing, New York.
10. William R. Woolverton, Yale; New York City.
11. Robert Bowman, Yale; Lake Forest, Illinois.
12. George K. End, Swarthmore-Columbia; New York City.
13. David T. Nelson, University of North Dakota; Mayville, North Dakota.
14. Robert W. Imbrie, Washington.
Chapter Four
15. James L. Carson, Chicago, Illinois.
16. No. 10 was the car driven by Leslie Buswell at Pont-à-Mousson, and the subject of his delightful book "Ambulance No. 10."
17. Joshua G. B. Campbell, New York City.
18. Giles B. Francklyn, Lausanne.
19. Tingle Wood Culbertson, Princeton; Sewickley, Pennsylvania.
20. John E. Cunningham, Massachusetts Institute of Technology; Boston, Massachusetts.
21. Frank Leaman Baylies, New Bedford, Massachusetts.
22. Samuel H. Paul, Chestnut Hill, Pennsylvania.
23. Julian L. Lathrop, Harvard; New Hope, Pennsylvania.
24. Benjamin R. Woodworth, Germantown, Pennsylvania.
25.This they did get later. See preface, pp. xii-xiv.
Chapter Five
26. Philip C. Lewis, Harvard; Indianapolis, Indiana.
27. Benjamin R. Woodworth, after Herbert P. Townsend's departure early in 1917, became Chief of Section No. 1. On June 16, 1917, he accepted the invitation of Chatkhoff, an American aviator, to take a spin near the town of S. The plane side-slipped, and he was killed instantly, crushed beyond recognition. To W. Yorke Stevenson with whom he had grown to be on terms of intimate friendship, fell the sad duty of bringing his remains back to the Section's headquarters --- a ghastly run of 100 miles. In a letter the author described the funeral as follows: --
"Stockwell, Ned Townsend, Hibbard, and I were the pall-bearers. Had wonderful flowers as the boys spent all morning picking big bunches of red poppies, white roses, carnations and apple blossoms, and blue cornflowers. The coffin was draped with French and American flags, and the Croix de Guerre was pinned on it.

"Shells were falling nearby as we lowered the coffin. It was just as he would have wished, and the American aviators were flying over his grave."
Mr. Woodworth was most popular and much beloved by many. He was gifted with a sunny disposition and much ready wit. The Diary shows the regard in which the author held him. The latter succeeded him as Chief of Section No. 1.
Chapter Seven
28. L. Brooke Edwards, of Philadelphia, did get the Croix de Guerre.
29. Bowman was a young man in whose eyes things loomed large. Hence the joke.
Chapter Nine
30. Charles Motley Clark, of Philadelphia, son of the late Clarence H. Clark. His mother was Miss Motley, of Boston, niece of the historian.
31. Paul Tison, Harvard; New York City.
32. Howard B. Lines of Cambridge, Mass., graduate of Dartmouth. Since died.
33. James L. Carson of Chicago.
---
Table of Contents