Huachuca Illustrated, vol 1, 1993:
chuca Illustrathuca Illustrat

Roll Call:
Black Jack
General John J. Pershing
chuca Illustrat
General of the Armies John J. Pershing began his service as a Second Lieutenant of Cavalry, serving in the Southwest and taking part in campaigns against hostile Apaches. In 1895 he joined the 10th Cavalry and his strong belief in the worth and the rights of the black soldier earned him the nickname "Black Jack." After several years of action in Cuba and the Philippines, he returned to the Mexican border where he led the force that pursued Pancho Villa into Mexico. Named by President Wilson to command the American Expeditionary Force, his leadership during World War I won a lifetime appointment as General of the Armies of the United States. Retiring as Army Chief of Staff, Pershing paid a visit to Fort Huachuca in 1924, and returned in 1935 to review the troops of the 25th Infantry.
Right: John J. Pershing. In 1901 Pershing reverted to his permanent rank of captain while in the Philippines. He was promoted to brigadier general in 1906 while serving as an observer with the Japanese Army during the Russian-Japanese war.
Below: Brig. Gen. John J. Pershing in a pensive mood, Colonia Dublan, Chihuahua, Mexico, Jul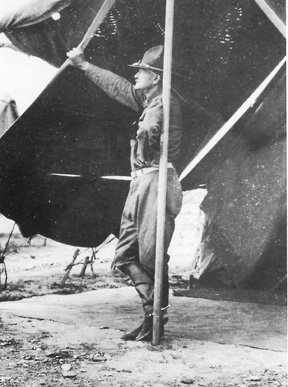 y 21, 1916. National Archives Series 94-UM-203910.
----------------
----------------
----------------
----------------
----------------
----------------
----------------
----------------
----------------
----------------
---
----------------
----------------
----------------
----------------
----------------

15. Buffalo Soldiers at Huachuca: The 10th Cavalary Joins Pershing

table of contents