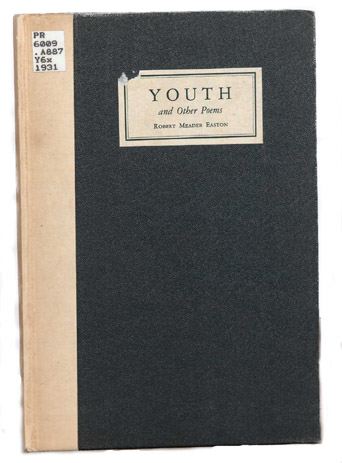 Youth : and Other Poems / Robert Meader Easton. -- [England?] : Privately printed by his friends, 1931.
TO RUPERT BROOKE
Death! He was cut away from the living
And laid beneath relentless sod
With his great, kindly work half done,
And his book of verses but begun.
— No, in my heart is no forgiving
That cruel, senseless act of God.
What of the bright laughter in those eyes
The tropic fever glazed?
What of the genius of his mind?
Oh, why is Providence so blind!
What need this precious human sacrifice
For fate to be appeased!
Struck down at the beginning of his song—
With that fall Parnassus shook.
Was Christ his Saviour too? It would be well
If there were justice, if in heaven or hell;
Oh, jealous God or gods, undo your wrong,
Return us Rupert Brooke.
Robert Meader Easton (1908-1930)